When Ecofibre Ltd (ASX:EOF) released its 4C (quarterly cashflow report) for the three months to 30th September early last week, there was no notable share price reaction. However, we do note straight out of the gates that it was rather early, and not amidst the muddy scrum of 4Cs lodged in the last couple of days before the deadline. I like this, because I think it demonstrates that the company has its sh!t together and management have a steady hand on the tiller. That's important in a fast moving industry such as hemp products. 
Ecofibre Ltd Quarterly Cash Flows and the Quest for Controlled Growth
The company hitting the ASX in late March 2019 and initially traded at a share price of around $2. Despite the strong share price rise since then, we only have a limited amount of available historical financial information – but the financial metrics reported yesterday were directionally pleasing and the growth trend remains intact. (In contrast, fellow cannabis stablemate Elixinol, reported stalling growth in recent months – as covered in our recent EXL quarterly update).
Back to Ecofibre, you can see below that customer receipts of $13.6M and unaudited revenue of $14.4M represented increases from the June quarter of 10% and 17% respectively, and operating cash flow of $3.9M was a 22% increase from the previous quarter. That is all pleasing and positive.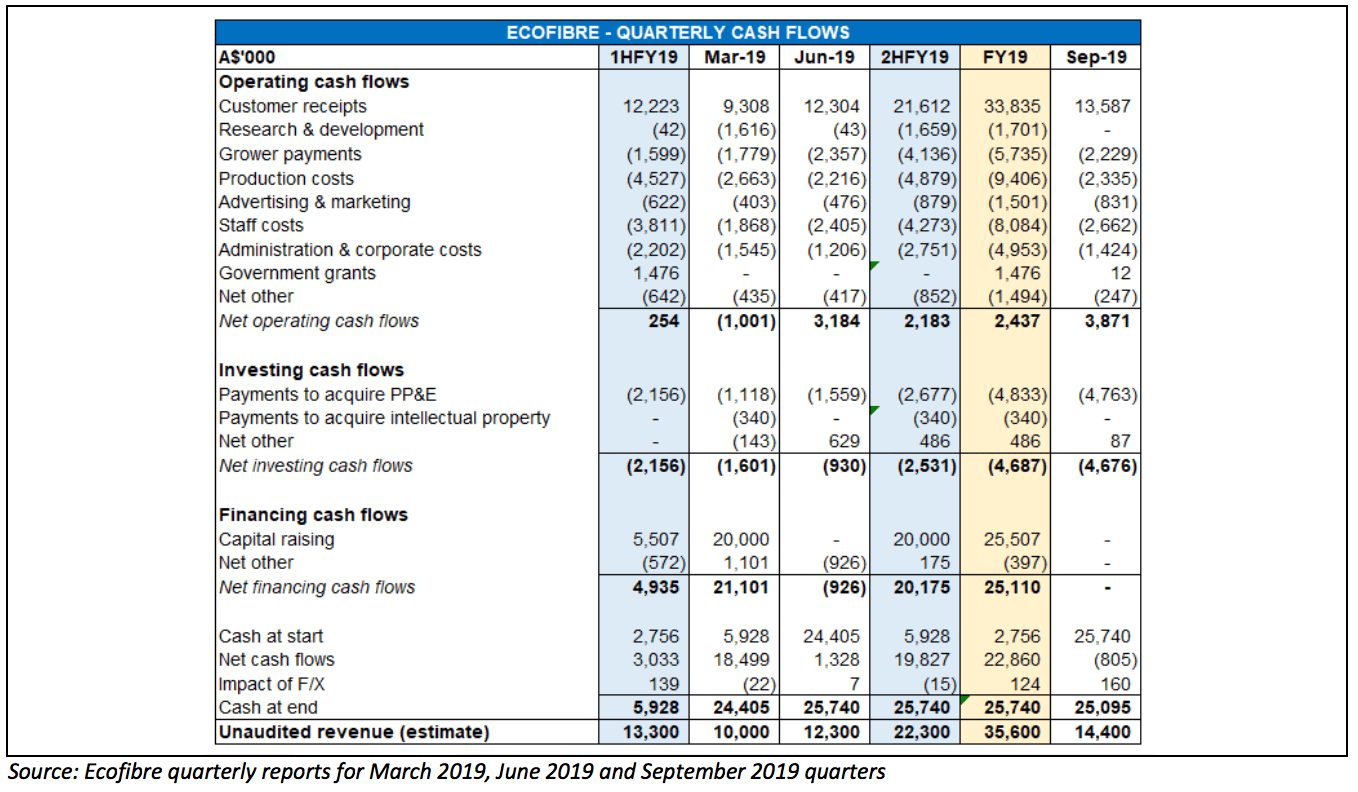 While the growth trend in revenue remains intact, the chart below left illustrates that on a quarter-on-quarter ("QoQ") basis, revenue growth has actually slowed since March. While we must recognise that a company won't grow exponentially ad infinitum, and that we should expect proportional growth to decelerate as revenue increases, this will be something to keep a very close eye on in the coming quarters.

In our recent piece on Elixinol we dissected EXL's March and June quarter cash flow reports and noted that the expected increase in competition in 2019YTD was having a negative impact on margins. Further, we noted that Elixinol had taken the strategic decision to materially increase its cost base in the form of greater sales & marketing activities and an expansion of the management team ahead of its launch into Europe.
In fact, that doubling of Elixinol's annualised cost base, coupled with a slight decline in annualised revenue (following the decision to ratchet down private label manufacturing), drove the company's ~$10M 1HFY19 NPAT loss and required a surprise $50M capital raising in June. As a result, Elixinol has become a considerably higher risk proposition in the past few months.
The good news for Ecofibre shareholders is that it doesn't appear to be experiencing Elixinol's problems at this point. For one thing, the Ecofibre management seem focused on taking a more deliberate and disciplined approach to managing growth and a comparatively more judicious approach to managing its capital. As profiled previously, the company operates only in the United States (via its Ananda Health nutraceutical, dietary supplement and skincare products business) and Australia (the Ananda Food hemp foods business), and is focused on executing in these markets, before expanding into new regions.
As such, Ecofibre has taken a more controlled approach to its cost base – as can be seen from the chart above right. Grower & production and administration & corporate costs have declined as a proportion of receipts, as one would hope. Meanwhile, staff costs have been stable over the past three quarters, though note this is on a cash (not accrual) basis and so ignores, among other things, any release of inventory build; not that there appears to have been a material inventory increase.
 Operational and other developments
The 4C was very light on operational detail, but did note that the Ananda Health range was being distributed in more than 3,800 US retail pharmacies at the end of September, up from ~3,200 at June. With close to 22,000 independent pharmacies in the US, that suggests penetration of just 17% of this channel and significant further potential runway. The company also released 2 new products during the quarter (in response to consumer demand): a CBD roll-on deodorant and a pain relief lotion. The company continues to invest in developing its product portfolio and we expect further new products over the short to medium term.
As we noted in our previous quarterly report (for Q4 FY 2019) on Ecofibre in late July, the company is about to commence the commercialisation of the Hemp Black business – and to that end the $4.7M of investing cash flows in the 4C table above relates to the construction of the company's new US headquarters (with significant space dedicated to Hemp Black). The company has remained highly secretive around potential future products for this division, but as we detailed in our previous EOF report, management has recently revealed that the Hemp Black business (in partnership with Thomas Jefferson University) will focus on the manufacturing of products such as (1) high-performance textiles; (2) hemp-based anti-inflammatory nano-film suitable for wound dressings; and (3) polymer fibres for industrial uses. FY20 is likely to see only minimal contribution from this division, but I am cautiously optimistic about the medium term prospects of the Hemp Black business.
The company also announced in yesterday's 4C that Ecofibre's shares will shortly be tradeable on the Over-The-Counter ("OTC") market in the US. While this will potentially make the company more visible to US investors, from memory the US OTC market already has something like 150 Australian companies trading under American Depository Receipts ("ADR") – and as such I don't expect this to materially move the needle in the short term – particularly with cannabis stocks out of favour at the moment (in comparison with the recent cannabis boom). 
Quick thoughts on Valuation and closing thoughts
Ecofibre's share price has held up pretty well amidst the recent carnage in global cannabis stocks, and at today's closing price of $3.16 is only 15% below the $3.70 high reached after the company released its full year FY19 results in late July. As such, Ecofibre has materially outperformed ASX cannabis peers Elixinol (down 65% from its 52-week high) and Cann Group (down 53%), and international majors such as Canopy Growth (-64%) and Aurora (-70%), a major shareholder in Cann Group.
Ecofibre has a market capitalisation of ~$920M currently. In our previous note on Ecofibre, we noted that the company provided no formal FY20F guidance and so we pondered a number of potential different earnings outcomes which might justify its (then $1.1B) market valuation – see repeated table below: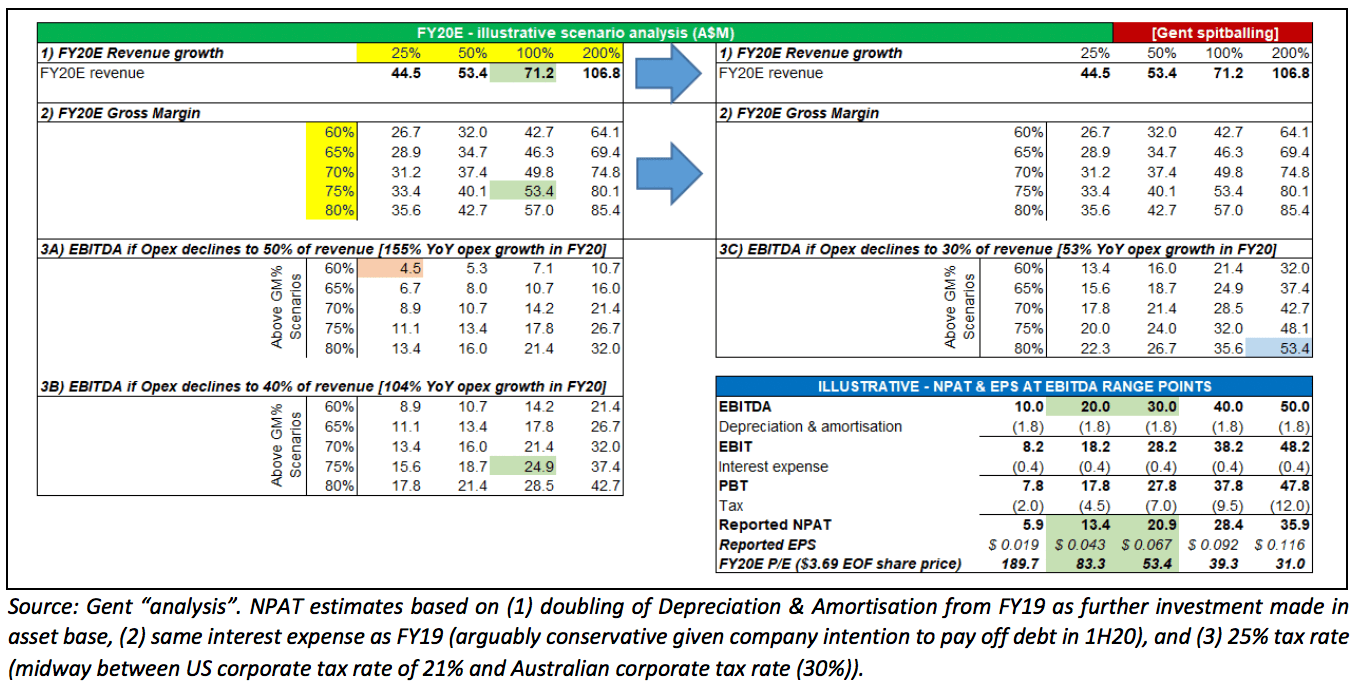 We noted that EBITDA of $20-30M for FY20E could potentially deliver NPAT of $13-21M – which at Ecofibre's current share price would represent an FY20E forward P/E of 47x – 73x. Clearly still not a Deep Value stock but growing nicely, but one could argue it is cheaper than other momentum darlings like ProMedicus and Nanosonics, even without ascribing any value to Hemp Black. As stated previously, I believe Hemp Black will be a meaningful generator of revenue and earnings from FY21/22F onwards, though it is also arguable that the market remains skeptical.
Sentiment towards the cannabis sector has soured from the recent frothy enthusiasm of early 2019 as the market has developed slower than many thought, and the regulatory regime has not opened up as quickly as the optimists hoped. If we were to frame cannabis in the context of the Gartner Hype Cycle, I would say that cannabis is currently in the Trough of Disillusionment which follows the Peak of Inflated Expectations. The Gartner Hype Cycle is of course imprecise as we can't know how long technologies or new products spend in each part of the cycle, but it is still a useful tool for trying to understand the trajectory of the life cycle from inception to widespread adoption.
I continue to be optimistic about the cannabis thematic broadly (see our background industry report here) and about Ecofibre specifically, as my preferred ASX cannabis stock. While the company's share price has held up much better than most of its peers, I wouldn't be at all surprised to see some volatility over the short term if sentiment towards cannabis continues to remain subdued. And personally I would welcome that if it yielded an opportunity to add to my Ecofibre holding between $2.50 and $3.00. 
Disclosure: Both I (@Fabregasto ) and Claude Walker hold shares in Ecofibre and will not sell for at least 2 days after the publication of this article. Fabregasto also holds positions in Elixinol and Cann Group.
For occasional exclusive content, join the FREE Ethical Equities Newsletter.
This article does not take into account your individual circumstances and contains general investment advice only (under AFSL 501223). Authorised by Claude Walker.
If, somehow, you are not already using Sharesight, please consider signing up for a free trial on this link, and we will get a small contribution if you do decide to use the service (which in turn should save you money with your accountant, or time if you do your own tax.)
"The Ethical Equities website contains general financial advice and information only. That means the advice and information does not take into account your objectives, financial situation or needs. Because of that, you should consider if the information is appropriate to you and your needs, before acting on it. In addition, you should obtain and read the product disclosure statement (PDS) of the financial product before making a decision to acquire the financial product. We cannot guarantee the accuracy of the information on this website, including financial, taxation and legal information. Remember, past performance is not a reliable indicator of future performance."