Cannabis Stocks: An Overview Of The Opportunity and The Industry
Author: Fabregasto
Ethical Equities is proud to present the first of three part series on ASX Cannabis Stocks.
Today, Fabregasto, covers the opportunity, the science, and gives readers the tools they need to assess pot stocks for themselves, in Part 1.
Part 2 (published next week) will be a joint piece on the ASX stocks themselves -- and why most of them are too risky for our portolios.
And Part 3 (initially for members of the Ethical Equities Newsletter and twitter followers of The Gentleman himself) will cover the one ASX Cannabis stock we like best.
Understanding the Science
The endocannabinoid system (ECS) is a complex intercellular communication system that plays an important role in the human body's central nervous system (CNS), affecting a number of key physiological and cognitive processes – including how we feel, move and react. The ECS is also involved in regulating fertility, pregnancy, pre- and post-natal development, and in moderating the effects of physical activity (including exercise-induced euphoria such as the "runner's high" (recently found to be attributable to cannabinoid AEA, not endorphins as previously believed)).
Cannabinoids are the natural chemicals produced by the human body that interact with receptors in the ECS to regulate immune system functions, pain sensation, motor learning and memory, appetite and mood. The two main endocannabinoid receptors are CB1 and CB2 – located primarily in the CNS, and the immune system, respectively.
The ECS is named after the plant Cannabis sativa and its active ingredient tetrahydrocannabinol (THC). Marijuana and hemp are two of the most well-known cannabis plants and differ significantly in the way they are cultivated and used. Marijuana is used predominantly for medicinal and recreational purposes, whereas hemp is used in healthy dietary supplements, clothing, cosmetics and accessories, and industrially in construction, plastics and even making cars.
THC is one of more than 100 cannabinoids which have been identified, and is a psychoactive chemical credited with causing the marijuana high and the potential for addiction. The other well-known cannabinoid is cannabidiol (CBD) which is found in the hemp plant and is not a psychotropic substance (meaning it does not make you high, alter brain function or cause temporary changes in mood, behaviour or consciousness).
Marijuana plants contain high levels of THC (typically 5-35%), whereas hemp plants contain very little THC (less than 0.3%) – which has resulted in the different legal circumstances surrounding the two plants (e.g. in the US the fact that CBD-derived nutraceuticals are not classified as drugs and don't require FDA approval). The successful interaction of CBD with cannabinoid receptors is not dependent on the corresponding levels of THC. Because CBD is thought to be beneficial to humans, hemp crops with high CBD command higher prices than those with low CBD, just as crops with higher THC sometimes command higher prices than those with low THC.
Crucially, cannabinoids found in cannabis plants are identical in action to the cannabinoids produced by the human body, suggesting they are not harmful. Studies seem to indicate that cannabinoid production within the body declines as we get older – which may be a contributing factor to the wide variety of medical conditions people contract in the last stages of their lives. This is part of the reason some people may wish to supplement with hemp-derived CBD products.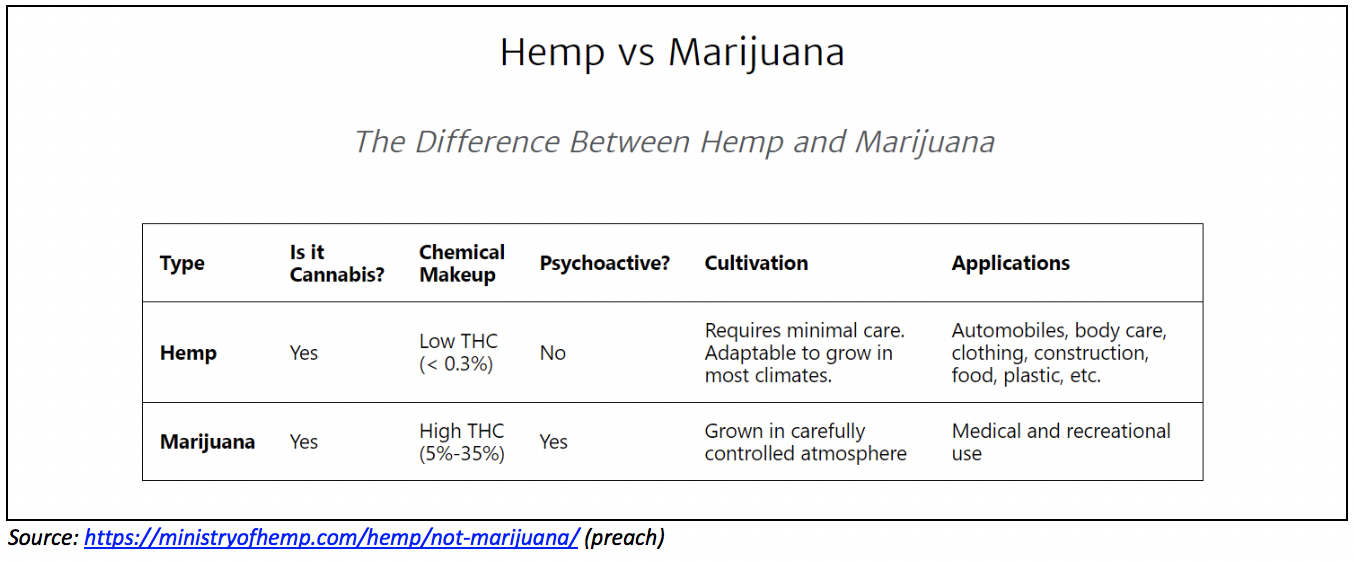 The Growing Hemp Market and Recreational Cannabis In Beverages & Tobacco
Independent hemp research organisation the Hemp Business Journal ("HBJ") estimates that US sales of hemp-based products reached $820M in 2017, and forecasts this to reach $1.9BN by 2022, driven by a degree of relaxation of some of the current legal and regulatory barriers, and increased consumer awareness and education (including overcoming the current stigma associated with hemp). The HBJ projects that hemp-based CBD products (such as hemp oils and essences) will increase from 23% of the US market in 2017 to 34% (US$646M) over this period, at a CAGR of 28% (slightly below the 30% CAGR it forecasts for industrial applications (e.g. packaging and building materials).

Here in Australia there have been many relatively fluffy press articles around hemp being the next "super food" (especially post hemp being officially classified as a food in November 2017). This is driven by a number of hemp's nutritional properties, including its high levels of protein and essential fatty and amino acids, and its comparative ease to digest (in comparison with certain grains, nuts and legumes). Hemp is also gluten free, meaning freaky people (such as myself, unfortunately) can use hemp flour for cooking purposes (*if I ever cooked).
Meanwhile, global beverage giants have been keenly watching the creeping legalisation of the cannabis sector in different jurisdictions, and in the past year have made strategic moves to enter the space. In October 2017, Constellation Brands acquired a 10% interest in listed Canadian cannabis company Canopy Growth for $191M, and in August 2018 invested a further $4BN to lift its stake to 38% and lock in Canopy as its exclusive global cannabis partner for the development of marijuana-infused beverages. Also in August, US brewer Molson Coors established a joint venture with listed Canadian cannabis cultivator Hydropothecary Corp to introduce a range of marijuana-infused drinks for the Canadian market.
Last week Bloomberg reported that Coca-Cola has held discussions with several cannabis producers (most recently Canadian producer Aurora Cannabis) to develop cannabis-infused beverages that will target inflammation, chronic pain and cramping. And Heineken has developed a THC-infused sparkling water drink for the Californian market (where recreational marijuana is legal). Predictably, a number of specialist marijuana beverage start-ups have commenced operations in the US in the last couple of years, and you can expect this would be a hotly contested space were recreational cannabis to be properly legalised, complete with a large number of smaller boutique players (akin to craft beer). Comparisons have been made to the ending of Prohibition in the US with the repeal of the Volstead Act in 1933 – but for as much as I enjoyed Boardwalk Empire, I want to emphasise that I believe the bigger investment opportunity for cannabis is in healthcare.
Tobacco producers are also expected to look to cannabis to offset the long term structural decline in tobacco sales. In June 2018, UK-based tobacco giant Imperial Brands became the first major global operator to invest in cannabis with the acquisition of an undisclosed shareholding in UK biotech Oxford Cannabinoid Technologies. This followed small listed US tobacco manufacturer Alliance One International taking a controlling stake in two Canadian cannabis producers in February.
Medicinal Cannabis
The real game changer with respect to cannabis is likely to be in healthcare.
Medicinal cannabis refers to products which include any part of the cannabis plant and are used to relieve the symptoms of a particular medical condition. The cannabinoids CBD and THC have been clinically shown to have therapeutic benefits for a range of medical conditions, including:
Multiple Sclerosis
Epilepsy
Chronic pain, inflammation and migraines
Osteoporosis and Rheumatoid Arthritis
HIV/AIDS-related nausea, pain and appetite loss
Parkinson's Disease
Depression, Anxiety, Schizoprenia, Post-traumatic Stress Disorder and other mental disorders
Glaucoma
There is also evidence that CBD and THC may have anti-tumoral properties (i.e. could potentially be used to suppress tumours and treat cancer-related pain and side effects).
It's still however early days in the medical research into cannabis.
I recommend that both of our readers (hi Sebastian and Millicent!) listen to the Bloomberg Radio Masters in Business podcast from June 2018 with Todd Harrison, founding partner and Chief Investment Officer of CB1 Capital. CB1's website includes a useful database of recent scientific studies undertaken into cannabis – helpfully organised by target area (https://www.cb1cap.com/cbd-research-studies-authorities/). In addition to the serious medical conditions above, CB1 estimates that there are currently 80-90 FDA clinical trials focusing on the use of cannabinoids (not just CBD and THC but the "minor cannabinoids" as well) to treat:
Cardiovascular Disease
Autism spectrum disorders and Attention Deficit/Hyperactivity Disorder
Alzheimer's Disease
Huntington's Disease
Complex motor disorders (i.e. spasms and twitches, including Tourette's)
Fibromyalgia
Endometriosis
Crohn's Disease and Irritable Bowel Syndrome
Muscular Dystrophy
Weight loss and eating disorders
Type 2 Diabetes
Sleeping disorders
Dermatitis, psoriasis and other skin conditions
CB1 is careful to describe the current medicinal cannabis landscape as early days "frontier science".  We shouldn't expect that cannabis will be the silver bullet panacea that puts an end to all of these serious conditions and allows us all to live well into our 200s (long enough to see Fast & Furious 57, or to see Catapult Group finally turn a profit). But research and trials to date in a number of these areas have apparently been highly promising, and there is real optimism that cannabis will be able to be legally used for the treatment of a number of serious physical and mental conditions.
Childhood epilepsy was the first medical condition to have a cannabis-based drug pass a US Food and Drug Administration ("FDA") Phase 3 placebo-controlled trial: British pharma company GW Pharmaceuticals ("GWPH")'s Epidiolex. In June 2018, the FDA approval of GWPH's drug as a prescription medicine for childhood epilepsy represented an important breakthrough for the medicinal cannabis industry. In 2010 GWPH launched in the UK the world's first cannabis-based prescription medicine: a spray for Multiple Sclerosis. GWPH currently has a market cap of US$4.8BN and a portfolio of other clinical stage cannabis-based drugs in development.
To date there seems to have been little focus on cannabis-based drugs from the large multinational pharma players such as Merck, Pfizer, Novartis and Sanofi. There is a narrative that big pharma nefariously worked behind the scenes to encourage the initial US ban on cannabis in 1970 and has continued to work in the shadows to prolong the prohibition since that time. Post the FDA approval of Epidiolex, commentators in some quarters view it increasingly likely that the pharma giants are likely to enter the sector in order to defend the cannibalisation of the supernormal profits earned from on-patent drugs.
Finally, there appears to also potentially be scope for cannabis to assist in battling the opioid "endemic" often hysterically reported in the media. This hinges on the evidence that CBD acts to block the psychotropic actions of THC (as noted earlier) and therefore may be useful in detoxification and weaning addicts off opioids (including heroin, and synthetic opioids such as fentanyl and legal prescribed pain relievers).
The Changing Legal Landscape For Hemp And Marijuana
In the US, hemp was made illegal to farm under the 1970 Controlled Substances Act because of its connection to marijuana, and its cultivation was only recently re-legalised by the 2014 Farm Bill. Hemp farming is now permitted in 31 states, including Colorado where EXL's US operations are headquartered. However it is still currently not legal to move the crops across state lines, nor to market hemp products – both of these impediments will be removed by the passing of the 2018 Farm Bill expected within weeks (as of the end of September 2018).
The chart below from EXL's September 2018 investor presentation illustrates slow acceleration in progress towards legalisation over the past 5 years.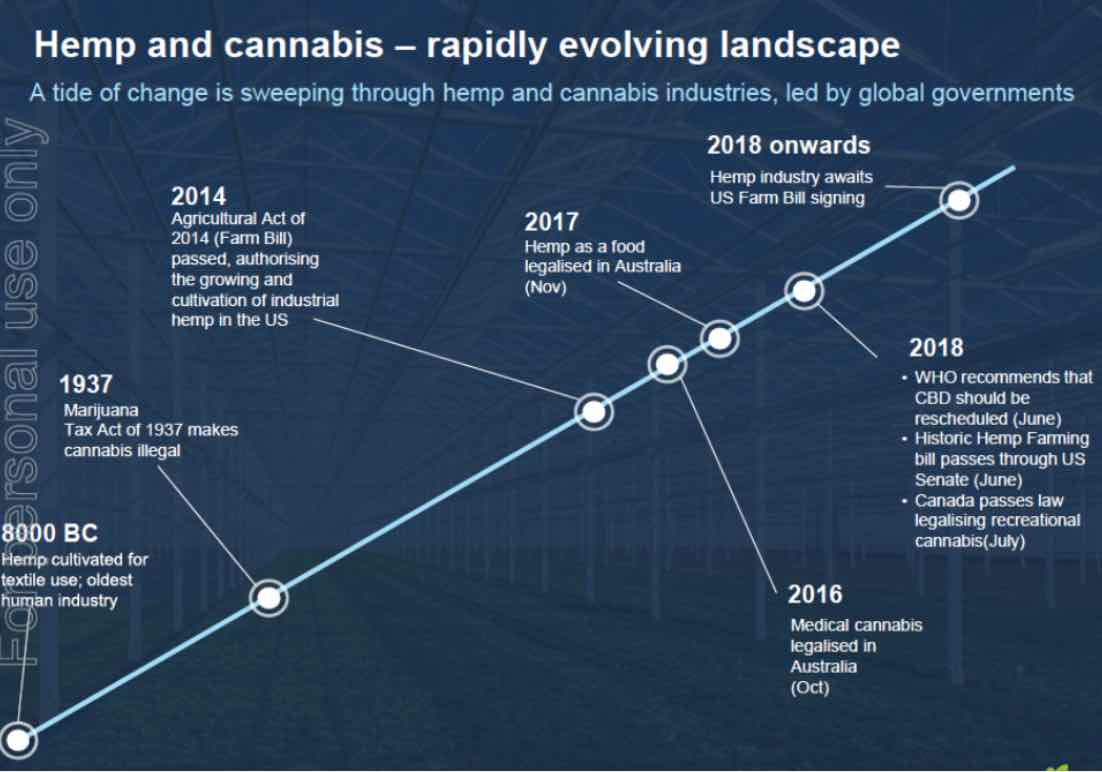 In June 2018, the US Farm Bill – which contains provisions pertaining to the legal cultivation, processing and sale of industrial hemp – passed through the US Senate (easily, on a vote of 86-11) and is now awaiting sign-off by President Trump. Once signed into law, industrial hemp will be classified as a standard agricultural crop which can be transported across state lines, and hemp products will be allowed to be advertised in mainstream journals and newspapers. The Bill will also make hemp plants eligible for crop insurance, enable water rights for farmers, and will open up access to mainstream payments technology.
Hemp legalisation enjoys broad bipartisan support in the US. Political commentators have suggested that the Republican Party are keen to take leadership of the hemp legalisation issue as the country heads into mid-term elections – hence the recent spearheading of this initiative by Senate Majority Leader Mitch McConnell. The legalisation of marijuana for recreational use is likely to take a lot longer in the US, and is not as much of a fait accompli. Canada became the second country in the world to legalise recreational marijuana in June 2018 (after Uruguay in 2013).
In Australia, the February 2016 Narcotic Drugs Amendment Act enabled the licensed cultivation of cannabis for medicinal and scientific purposes, and in April 2018 legislation was passed to enable Australian cultivators to export cannabis seeds, oils and raw materials to other markets.
Sign up to the Ethical Equities Newsletter to receive parts 2 and 3 of this series, where we will take a closer look at the individual listed stocks.
Please feel free to sign up to the forums and let me know what you think!
For early access to our content, join the Ethical Equities Newsletter.
The Author of this piece, Fabregasto, and Editor, Claude Walker, own shares in one Cannabis stock Elixinol Global. This article contains general investment advice only (under AFSL 501223). Authorised by Claude Walker.