Ecofibre (ASX:EOF) has performed strongly over the past few months since we initiated on the company in April (see here) – In that time the share price is up 52% and it's up a total of 222% for investors fortunate enough to get into the March IPO.
Nearly all of that share price run  since April has occurred in the past couple of weeks – immediately prior to a bullish market update released on 4th July – which confirmed the predictive abilities [cough] of those who bought into the stock over 2nd and 3rd July (during which time the share price jumped 25%). That market update included a quick update on the growing number of independent US pharmacies stocking Ecofibre's Ananda Professional product range, and foreshadowed the release of the company's maiden quarterly cashflow report (4C) for the June quarter on 11th July.
To quickly re-cap, Ecofibre comprises three businesses, two of which are generating revenue:
A US-based vertically integrated manufacturer and distributor of zero-or-low THC hemp-based nutraceutical, dietary supplement and skincare products. This division sells Ananda Hemp branded products through its website to wholesalers and retail customers, and sells Ananda Professional branded products through independent pharmacy chains; (Ananda Health);
An Australian-based manufacturer and marketer of hemp foods (Ananda Food); and
A pre-revenue business focused on commercialising the production of hemp-based textiles and composite materials, in partnership with Thomas Jefferson University, a top 20 shareholder in the company (Hemp Black).
The US business generated ~90% of sales for 1HFY19 (to December 2018) and is the key growth driver for the company given the strong growth in that market following the signing of the US Farm Bill into law late last year. The chart below illustrates Ecofibre's increasing penetration of the US independent pharmacy channel to date after formally launched the Ananda Professional brand less than a year ago.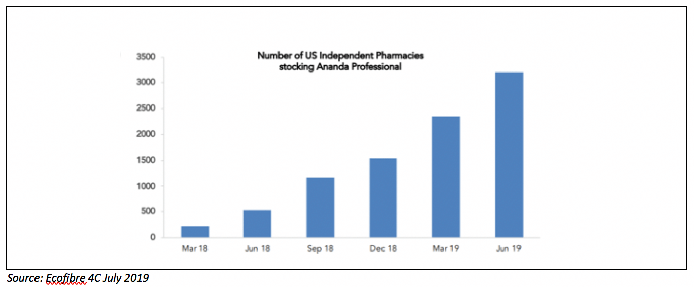 The number of pharmacies retailing Ecofibre products has more than doubled between December and June to 3,200 – which per the company has underpinned the very strong growth in revenue for FY19 (discussed shortly). The prospectus detailed that there are ~22,000 independent pharmacies in the US – suggesting a penetration rate of ~15% as at June and a long potential growth runway.
Preliminary FY19 results
In our Ecofibre initiation piece, we tried to estimate FY19 results based on some high level guidance provided by the company in the March quarter 4C released in April. Our back-of-the-envelope calculations suggested revenue of at least $31.5M and profit before tax somewhere in the region of $0.5M.
Pleasingly, based on the preliminary unaudited FY19 data points shared in the June quarter 4C this week, the company has outperformed the previous guidance and our rough estimates – with unaudited FY19 revenue of $35.6M (up 519% from FY18A) and a maiden profit before tax of $4.5M. The June quarter 4C also detailed that Ecofibre generated operating cash flow of $3.2M during the period. We will provide further detail on finalised FY19 results once release in August.
Closing thoughts
As we've discussed previously in pieces on ASX stablemate Elixinol (ASX: EXL) and our broader cannabis industry pieces, the hemp-based nutraceutical, dietary supplement and cosmetics market is in a hyper-growth phase which has seen a flood of new competitors enter the market in the past year. It is too early to gauge which operators will be the long-term dominant players in the market; the near and medium term focus for all players will be to establish a market position and try to defend it –against both existing rivals and future new entrants attracted into the sector by the strong growth potential).
The next few years represent a substantial land grab opportunity in both individual regional markets and the global marketplace as a whole. To this end, Elixinol recently completed a $50M capital raising to accelerate its US growth ambitions, and we would not be surprised to see Ecofibre undertake a similar strategic move – although we note the company boasted a ~$26M cash balance at the end of June (an increase of~ $1M during the quarter post some investment and debt pay-down).
As I mentioned in our Ecofibre initiation piece, I am very intrigued by the Hemp Black division and feel that it could eventually be the largest generator of sales for the company – and this echoes comments from CEO Eric Wang. Hemp Black will likely require further capital at some point as it moves towards commercialisation – however that is probably a year or two away at this point, and won't necessarily require the company to consider a capital raising. The company has also left ajar the potential for the company to enter the medicinal marijuana space (which management have shied away from until the regulatory picture is clearer) – which would also likely require more capital – but there is no visibility as to whether Ecofibre will even go down that path.
In the meantime, EOF – like EXL – will continue to trade on premium (read: eye-watering) multiple from a traditional historical multiple viewpoint. At its current market capitalisation of ~$1 billion, Ecofibre is trading on a historical P/E multiple of close to 300x (assuming final FY19 NPAT of $3.0-3.5M). Frothy stuff indeed, but readers will appreciate that the company has only just recently reached its profitability inflection point – which of course means that traditional backwards-looking valuation multiples (which do not factor in future growth or relative growth profiles versus in comparison with other companies) will look extreme. As a result, we expect that Ecofibre's share price will continue to be volatile – and reiterate out caution that the company is suitable only for those Ethical Equities readers with an appetite for risk.
We will provide a further update on the company post the release of its maiden full year results next month – which hopefully will contain some initial guidance on the new FY20 trading year.
Disclosure: Both I (@Fabregasto ) and Claude Walker hold shares in Ecofibre and will not sell for at least 2 days after the publication of this article.
For early access to our content, join the Ethical Equities Newsletter.
If you don't yet use Sharesight, please consider signing up for a free trial on this link, and we will get a small contribution if you do decide to use the service (which in turn should save you money with your accountant, or time if you do your own tax.) Better yet, you can get 2 months free added to an annual subscription.
This article does not take into account your individual circumstances and contains general investment advice only (under AFSL 501223). Authorised by Claude Walker.