Dicker Data (ASX:DDR) HY 2019 Results Analysis
On Friday last week, IT distributor Dicker Data (ASX:DDR) reported its results for the first half of 2019, demonstrating that it remains a great source of funding for its co-founder's private race track and superfast racing cars. 
Plenty of credit must go to the operational team along with the employees more generally, who have shown in this half what they can achieve if the facility is running at close to capacity. Revenue was up about 19% of the prior corresponding period while earnings per share gained close to 50%, thanks to record-breaking margins.
I agree with my friend Tony Hansen that this is partly a demonstration how cramped they are in the current facility and suggests that expenditure on new staff isn't being made as they don't have the room. Therefore, it seems unlikely this NPAT margin will be maintained as the company gears up for another growth leap with its new facility. In any event, you can see how the profit spiked in the most recent half, in the graph below: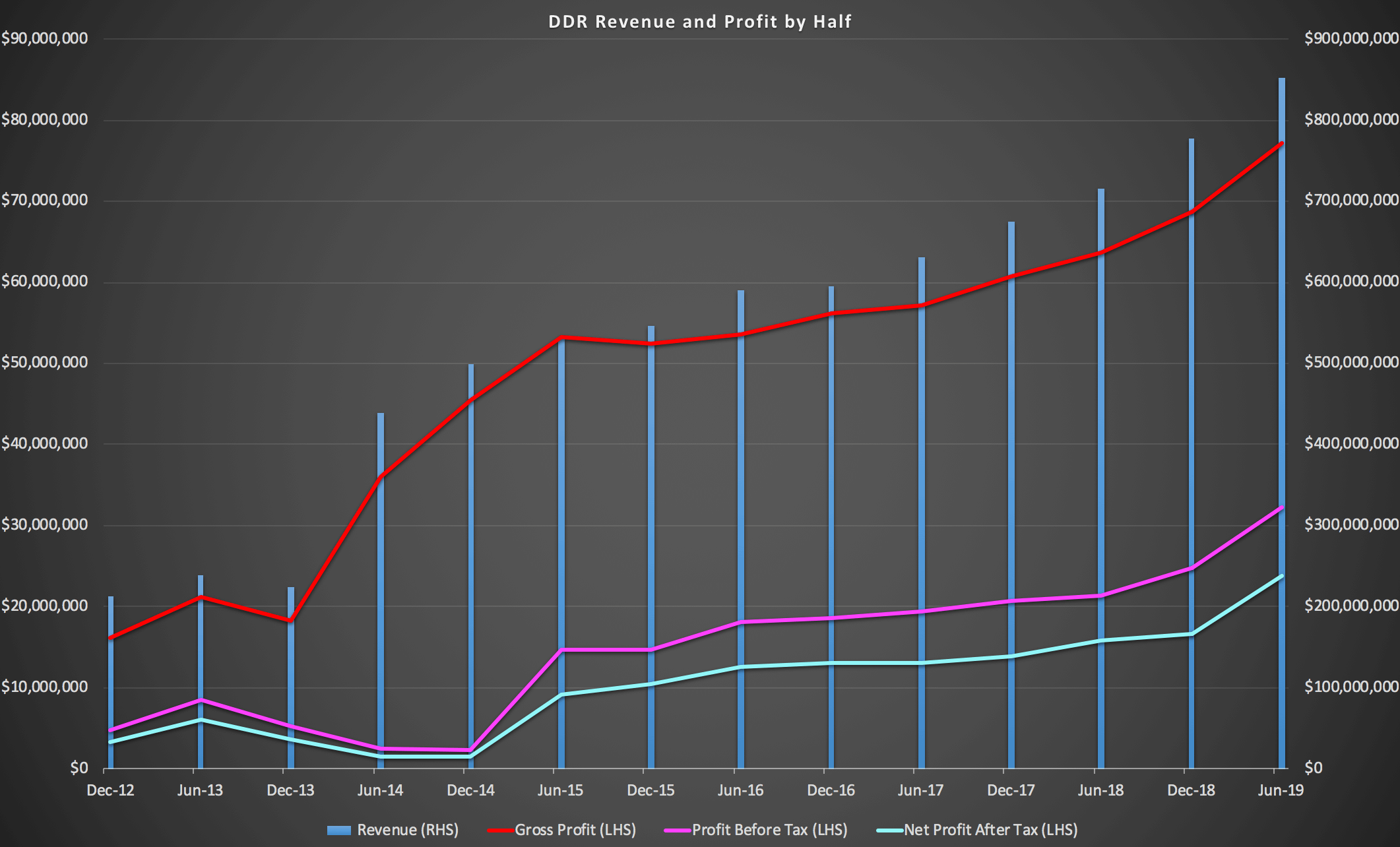 Operationally, it was good to see a good rebound in NZ revenue, which was a key target for COO Vladimir Mitnovetski to improve on after the company suffered a set-back there in losing one distribution agreement, a couple of years ago. In my observation this is a team that usually achieves its stated goals.
Free cash flow came in at $13.8 million, which is obviously below profit, due in large part to a massive build-up of receivables. Cynics among us might quite fairly object to this and in my view the worst decision the business has made in the last few years is to offer "by-the-month payment solutions that can be specifically tailored to suit our partners and their customers' varying needs" which "will be underpinned by DDR's own balance sheet". Ironically, I actually do trust CFO Mary Stojcevski to run this program sensibly, but I nonetheless think it increases risk for the company and probably creates a negative narrative that is suboptimal. 
Having said that, I would expect nothing less from the board of Dicker Data who seem to do exactly whatever they want and don't worry too much about what analysts think. Usually, this would be entirely unacceptable but when you take no salary and pay out 100% of earnings as a dividend then you have proven alignment with shareholders so in my view you earn that right. The main ramification of all this is that if Mary or Vlad quits I think I will sell most or all of my shares in a hurry.
Speaking of dividends, the company maintained the 5 cents quarterly dividend, putting the company on a trailing yield of 3.2% at yesterday's close of $6.66 (someone has a sense of humour with that pricing). I'm forecasting the dividend to increase, with a final dividend to increase for the fourth quarter, potentially by a meaningful amount.
At current prices, I think that Dicker Data is roughly fairly valued. I could see myself selling some shares at around $7, but I'm not in a massive hurry. I'm not sure if I would be a seller at current prices. It has re-rated by well over 100% since I called it my preferred dividend stock for November 2018. I was buying around that time, with my last purchase in January 2019, and I might be more motivated to sell once a tick past the one year holding period.
Potential Upside
This analysis has characterised the extremely strong improvement in margins as unsustainable. I think that is the case, but also note that the company said, it is "moving even more so to becoming a solution aggregator business focusing on strong value added services for our vendors and partners". This approach should lead to higher margins, so it is possible that the company will actually be able to keep margins above historical levels. This hypothesis is consistent with the multiple on-market purchases of shares by COO Vlad and CFO Mary, over the last year. If it comes true, I will be pleased.
Potential Downside
Dicker Data is gearing up to move to a bigger facility. This is the correct move as it will allow the business to continue growing over time. However, this kind of transition always comes with risks and is likely to depress profit growth, if not profit itself, during the transition period. As you can see in the chart above, Dicker Data has previously depressed its profit when undergoing a transition period in 2014. Keep in mind that the company has net debt of over $100 million, and historically pays out 100% of earnings as a dividend, which necessitates borrowing. In a period of declining profits (but increasing revenue) the company might face some funding difficulties, although I think that reasonably unlikely. The announced sale of the Kurnell property for $36 million will help in this regard.
Conclusion
I continue to like Dicker Data as a business although I am not likely to be a buyer at current prices.
For occasional exclusive content such as the original recommendation of Dicker Data at $2.81, join the FREE Ethical Equities Newsletter.
Disclosure: Claude Walker owns shares as disclosed and will not trade any for at least 2 days after publication of this article.
This article does not take into account your individual circumstances and contains general investment advice only (under AFSL 501223). Authorised by Claude Walker.
If, somehow, you are not already using Sharesight, please consider signing up for a free trial on this link, and we will get a small contribution if you do decide to use the service (which in turn should save you money with your accountant, or time if you do your own tax.)
 "The Ethical Equities website contains general financial advice and information only. That means the advice and information does not take into account your objectives, financial situation or needs. Because of that, you should consider if the information is appropriate to you and your needs, before acting on it. In addition, you should obtain and read the product disclosure statement (PDS) of the financial product before making a decision to acquire the financial product. We cannot guarantee the accuracy of the information on this website, including financial, taxation and legal information. Remember, past performance is not a reliable indicator of future performance."