It's quite difficult to value a growing company, especially when there it has been listed for less than a year. I would consider Ecosave shares a decent, if somewhat speculative investment, at under $1.50, although it's unlikely that I will buy shares prior to the full year results being released.
Ecosave sells bespoke energy and water conservation systems, with a view to generating strong returns (in the form of operating cost reductions) for their clientele. In 2012 Sales Revenue was $9,959,300, but HY2012 was 1,335,200. That is to say, the first half revenue was about 13.5% of FY Sales Revenue. The Press Release for the 1st Half of 2013 said, "The first half loss is in keeping with our traditional revenue profile, where we book the overwhelming majority of revenues and profits in the second half of the year." This clearly states that there is a "tradition" of booking revenues and profits in the second half. This tradition is likely a result of customers signing contracts prior to the end of the financial year. If this tradition continues, based on HY2013 Revenue of $2,446,000, Revenue for FY2013 should be about $18,200,000. Historically, gross profit comes in over 50%, but running with a conservative 50%, we get gross profit of about $9,000,000 in comparison to $5.8 million in FY2012. Expenses are up on 2012, and Ecosave are still hiring, but a rough estimate based on the HY2013 suggests operational costs shouldn't be much more than $5.5 million, and possibly less. This gives an estimated profit for FY2013 of $3.5 million, in comparison to $2,465,900 for FY2012. This is better than the prospectus forecast of $3 million. This works out at 13.6c per share, based on conservative assumptions. Notably, although the assumptions in this reasoning differ from those made by Kimber Capital, they too have arrived at 13.6cps as a conservative estimate of future earnings.
Founder Marcelo Rouco owns approximately 80% of Ecosave, and liquidity in the stock is poor. Uncertainty remains over the long term growth prospects of the company, although I would argue that there is a lot of room to grow (and competition is certain). It is not known whether minority shareholders will be respected, due to the recent listing of the company, though I suspect that they will be. The sole non-executive Director, Glenda Nixon, has worked for accountants Accru-Felsters, yet the auditors for Ecosave are Moore Stephens. This suggests that the board is steering clear of the typical corporate back-slappery that is generally evident ASX listed companies. Pie Funds, the Auckland based investment managers recently became a substantial holder ECV. At the time of writing, their average price is around $1.40. To me, this suggests that they expect the company to earn at least 13.6c per share, that they think Rouco can grow the company, and that they expect the company to grow earnings strongly into the future. Personally, I've found myself on the same share register as Pie Funds on multiple occasions, and I have respect for Mike Taylor's abilities as an investment manager.
As you can see in the Appendix to this report, there are a number of government schemes encouraging companies to spend on energy efficiency. It's unclear how secure these schemes are, although the recently announced cuts mainly impact low income household spending and local government spending. The impact of grants programs goes some way to explain why Ecosave revenues are reasonably lumpy, and weighted toward the second half of the year. For example, the Clean Technology Investment Program gives out grants in rounds, the next winners being announced in May 2013. It's not clear what impact a wind-down of grants would have on the business, although it is likely that, were government incentives to be reduced, this would put pressure on margins and also reduce the number of customers.
The cashflow, statements show us that Ecosave;
a) does not always have positive cashflow;
b) had negative cashflow as recently as 2011, and;
c) had relatively strong cashflow in 1HY2013.
From what I can gather, at least part of the cash is received in the half after the revenue is booked.

Sales Revenue and Profit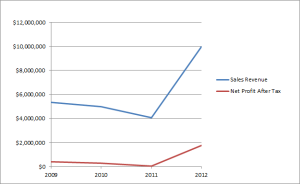 Government Support for Energy Efficiency
Of particular significance (I think) are the
Clean Technology Investment Program
and the
Victorian Energy Efficiency Target
(VEET) in Victoria,
Other government support includes the NSW Energy Savings Scheme
and the subsidies for schools to become more energy efficient; the School Energy Efficiency Program in NSW and the Energy Efficiency Grants Program in Victoria
Federal incentives include the can be found here but are endangered species.
Initiatives such as the Energy Efficiency Opportunities Program, may have positive flow on effects for Ecosave.
The author does not directly hold shares in Ecosave. Subsequent to writing this article, the author found out that he has an indirect interest in Ecosave via August Investments.
Want to get my best research first? Sign up here for free.