Webjet FY 2019 Results: The Turbulence Will Soon Be Over
Online travel agent Webjet Limited (ASX:WEB) released its results for FY 2019 earlier today. Total transaction value was up 27% to $3.8 billion, revenue increased 26% to $366.4 million, EBITDA jumped 43% to $124.6 million and NPAT before acquisition amortisation was up 46% to $81.3 million. On a per share basis earnings before amortisation rose 31% to 63.3 cents translating to a price-to-earnings multiple (P/E) of 20 based on the share price at the time of writing ($12.60). Total dividends rose to 22 cents, up from 19.8 cents last year. Statutory NPAT was $60.3 million which was slightly behind market consensus forecasts of $61.9 million as was revenue ($375.3 million forecast). On a statutory basis the stock trades on a historical P/E of 26.
Closing net debt excluding client funds was $23.7 million compared to net cash of $42.2 million at the end of last year. This deterioration was largely due to the acquisition of DOTW during the year. Cash flow from operations was weak at $45.7 million compared to $120.8 million in FY 2018, but was impacted by delays in paying suppliers in FY 2018 due to issues implementing a new ERP system causing $53 million of payments to fall into FY 2019. Purchase of intangibles and property, plant and equipment increased to $32.7 million up from $27.8 million. This was more than covered by depreciation and amortisation of $36 million although that includes acquisition amortisation of $19 million. Therefore, statutory NPAT is arguably a more accurate measure of business performance than NPAT before acquisition amortisation.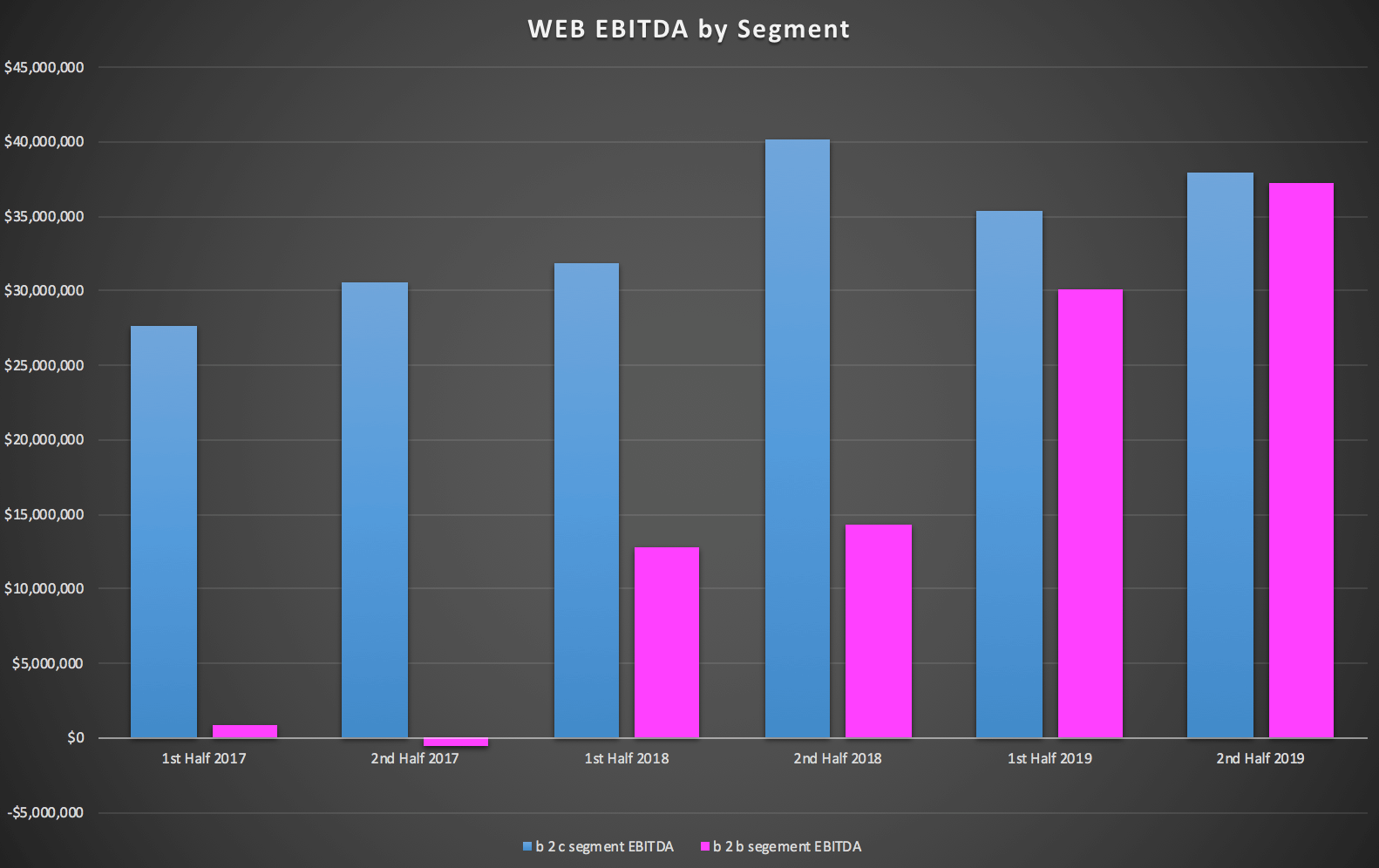 B2B
The impressive group performance was largely thanks to the group's business to business (B2B) division, WebBeds, which matches hotel inventory with travel agents and tour operators on a global scale. WebBeds was only launched in 2013 and yet contributed 50% of total revenue in FY 2019. Revenue rose 62% to $184.5 million and EBITDA increased 148% to $67.3 million with all regions making a strong contribution. In particular, the Asia Pacific region looks very promising given it contributed a $0.6 million EBITDA loss in the first half followed by a positive $6.4 million contribution in the second half. This part of the business has massive potential. 
WebBeds has made two acquisitions in the past two years, JacTravel and DOTW. The company says that assuming both acquisitions had been held for a full twelve months in both years EBITDA would have increased by 30% to $78.4 million representing robust organic growth. The WebBeds performance was all the more impressive given the difficult global environment during the year featuring Brexit, trade wars and an extraordinarily hot European summer.
WebBeds now has 30,000 direct contracts with hotels which contributed to 55% of sales in the division in FY 2019. The strategy is to increase this number to 40,000 in the future as direct contracts are higher margin than inventory sourced through aggregators. Importantly, long term prospects for WebBeds are strong with the company on track to convert 8% of TTV to revenue by 2022 (8.6% in FY 2019) at an EBITDA margin of 50% (36% in FY 2019).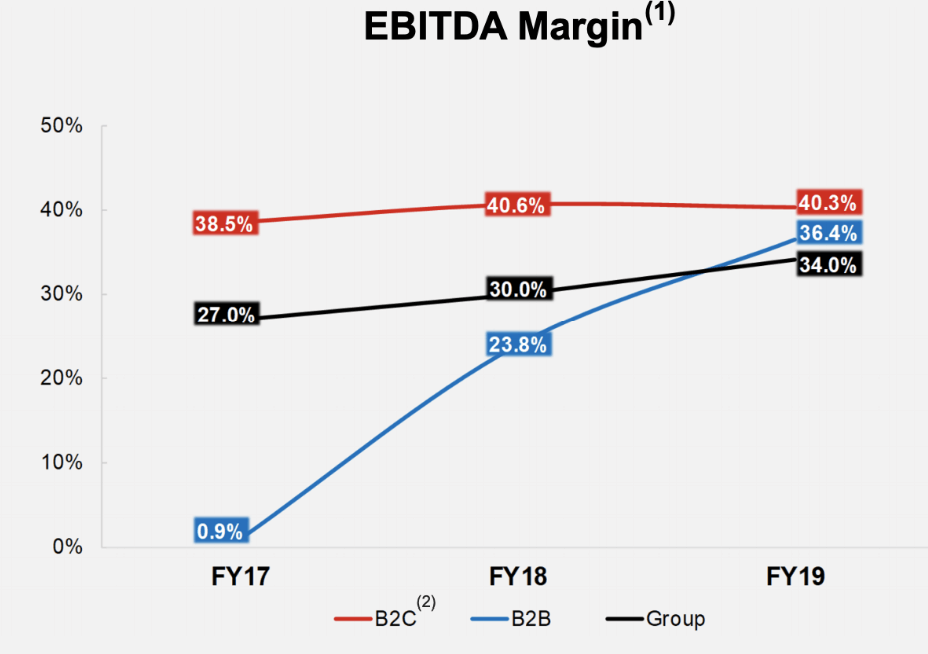 RezChain is Webjet's blockchain powered solution for resolving data mismatches between WebBeds parties. It is already helping the company to reduce costs and is a major reason for management's confidence in achieving the margins above. Plans for RezChain were first announced in 2016 and it is impressive that the technology is already in place and delivering results across the entire WebBeds business.
WebBeds TTV still represents less than 4% of the total market and there is the opportunity to both grow organically and through acquisitions. RezChain is one reason why Webjet is able to significantly improve the efficiency of the businesses it acquires. I am usually leary of acquisitions, but when done properly there is the potential to create bucketloads of shareholder value.
In the coming year, WebBeds will start to receive a return on sales to Thomas Cook ($197 TTV in FY 2019), the embattled UK travel company currently undergoing restructure, although margins will be much lower than for the rest of the business. Until now, WebBeds has not been charging Thomas Cook as part of the deal struck when WebBeds acquired Thomas Cook's inventory in 2016. TTV from Thomas Cook is expected to be between $150 million and $200 million in FY 2020, below original expectations of between $300 million and $450 million. 
WebBeds owns 51% of Umrah Holidays, an initiative targeting the substantial and growing religious holiday segment. Saudi Arabia is hoping to increase visitors to 30 million by 2030, up from 6 million today and the market opportunity is estimated at US$10 billion TTV, roughly three times current group TTV. Umrah Holidays is uniquely able to sell visa and hotel packages giving management reason to think the venture will be successful.
The outlook for WebBeds for FY 2020 is for $27 million and $33 million of additional EBITDA, down from $40 million as guided upon release of the half year results which might partially explain why the shares fell 12% today. This is largely due to the Thomas Cook situation described above and excludes any organic growth. WebBeds TTV is up 50% (excluding Thomas Cook) in the first six weeks of 2020, although this includes a contribution from DOTW which was acquired in November 2018.
B2C
A soft Australian economy and May's federal election caused the traditional consumer online travel agent business to struggle in FY 2019. Despite this, the segment grew revenue at twice the rate of the overall market and a favourable product mix boosted margins. Revenue was up 3% to $150.5 million and EBITDA was up 4% to $60.8 million. 50% of flights booked via an online travel agent in Australia are done through Webjet, but this still represents just 5% of all flights. TTV for the first six weeks of 2020 was up 9% on the prior corresponding period hinting at a possible market recovery.
The small New Zealand operation was impacted by the Christchurch attack in March and recorded a slightly worse performance than last year. Revenue was unchanged at $31.4 million and EBITDA was down 6% to $12.5 million.
Conclusion

I think that Webjet shares offer good value despite trading on a full earnings multiple of 26 times. The WebBeds business appears to have a huge growth runway ahead of it and is well placed to improve profit margins. It is destined to dominate the group and so the slower growing B2C division will become less important to overall performance in time. There is a good chance that B2C returns to growth when economic conditions improve in any case. CEO John Guscic said the group has had "a cracking start to 2020" and that there is "a nice pipeline of [acquisition] opportunities in front of us" and my view is that today's share price reaction will prove to be short lived.
Disclosure: Matt Brazier and Claude Walker both own shares in Webjet at the time of publication, and will not sell for at least two days.
For early access to our content, join the Ethical Equities Newsletter.
If, somehow, you are not already using Sharesight, please consider signing up for a free trial on this link, and we will get a small contribution if you do decide to use the service (which in turn should save you money with your accountant, or time if you do your own tax.) 
This article does not take into account your individual circumstances and contains general investment advice only (under AFSL 501223). Authorised by Claude Walker.