Back in September last year I decided to run an experiment regarding a basket of microcap health stocks. I had a theory that a basket of small healthcare stocks would beat the market. Therefore, by selecting from within that basket, one could improve the chances of beating the market. My aim was to beat the ethical equities micro cap healthcare watchlist in my own portfolio, but I also wanted to see whether the watchlist itself would beat the market.
Have I correctly identified a market beating pool to fish in? Well, it's only been 9 months since I started the experiment. That's too soon to know, but I think it's fair enough to have a peak at the progress so far.
The stocks chosen for the watchlist are below (and my current disclosure in brackets):
Medical billing company ICS Global (ASX:ICS), which has since consolidated its shares. (Not held)
Cryogenic storage company Cryosite (ASX:CTE) which has since paid a fat capital return, which is not captured in the results below -- if anyone wants to run a dividend inclusive comparison, be my guest. (Held)
Hospital and allied health practice software provider Global Health (ASX:GLH), which has been through a rocky ride. (Not held)
Medtech Global (ASX:MDG), another medical practice software provider, which has related party dealings that raise a red flag for me. (Not held)
Compumedics (ASX:CMP) a diagnostic hardware/software company that may finally have executed a turnaround. (Held)
Resonance Health (ASX:RHT) a diagnostic imaging software company that has seen the back of a questionable CEO. (Not Held)
Pro Medicus (ASX:PME) a different kind of diagnostic imaging software provider, which shouldn't really be classed as micro cap anymore, and has been winning contracts in the US. (Held)
Azure Healthcare (ASX:AZV) a hardware/software provider of nurse-call systems. (Held)
Below I track each company's performance since the inception of the Ethical Equities Micro Cap Healthcare Watchlist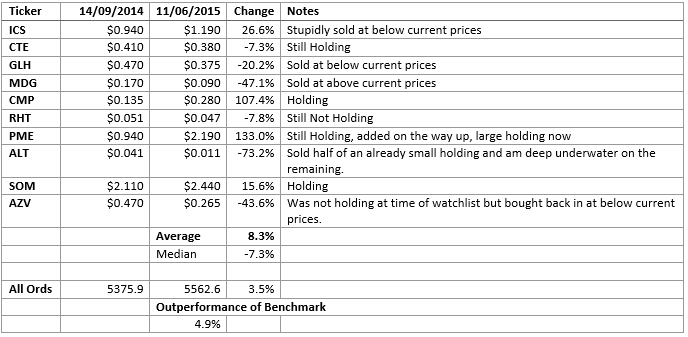 As you can see, the basket of healthcare stocks has narrowly beaten the market... by just under 5%.
However, had good judgement allowed you to eliminate Medtech and Analytica due to them being quite poor quality and burning cash, the average would have been 25.5% versus 3.5%, a truly whopping example of how a basket can beat the market. But woe betide he who skipped Pro Medicus! I think the risk of paying too much for Pro Medicus was much more sensible than the risk of paying too much for Medtech or Analytica, because they could easily be worthless.
From now on, I'll also track the performance of the basket without those companies. It will be interesting to see if that helps or hinders...
One big lesson I've solidified recently (and this further proves it), is: Don't invest in companies with very high downsides. Generally, for me, if it's reasonably easy to imagine the share price falling more than 50% before value investors come in to buy it, then it is probably not worth the risk.
Another lesson is that if you want to take a basket approach you still need to carefully vet for quality. Fortunately for me, I had much smaller exposure to the under-performers in the watchlist above and much larger exposure to the out-performers. However, returns could have been improved by not holding Analytica and Medtech at all. I believe this represents an error on my behalf, since I was aware that they were lower quality companies, and I really hadn't put enough work into researching them... the more I looked the more I didn't like what I saw.
Live and Learn.
Nothing on this website is advice, ever. This post is for entertainment (and for my own reference!)
Please do follow me on twitter @claudedwalker.
The Free Newsletter is no longer regular, but is still accepting new readers.