Radiology imaging company Pro Medicus (ASX:PME) released its results for the 2018 financial year this morning. These results provide further evidence that this truly is a hidden gem of a company.
The headline revenue growth of 16% to $36 million was in line with the high expectations the market has of this stock. Meanwhile, the statutory profit of just over $12.7 million was assisted by currency tailwinds in the second half. My preferred measure of company profitability is profit adjusted for currency impacts, which was just under $12.6 million in FY 2018. Management continue to demonstrate their integrity by reporting metrics consistently, rather than picking the most favourable metric in any given report.
While the annual underlying profit was strong, I was particularly pleased to see a very strong second half, as you can see below: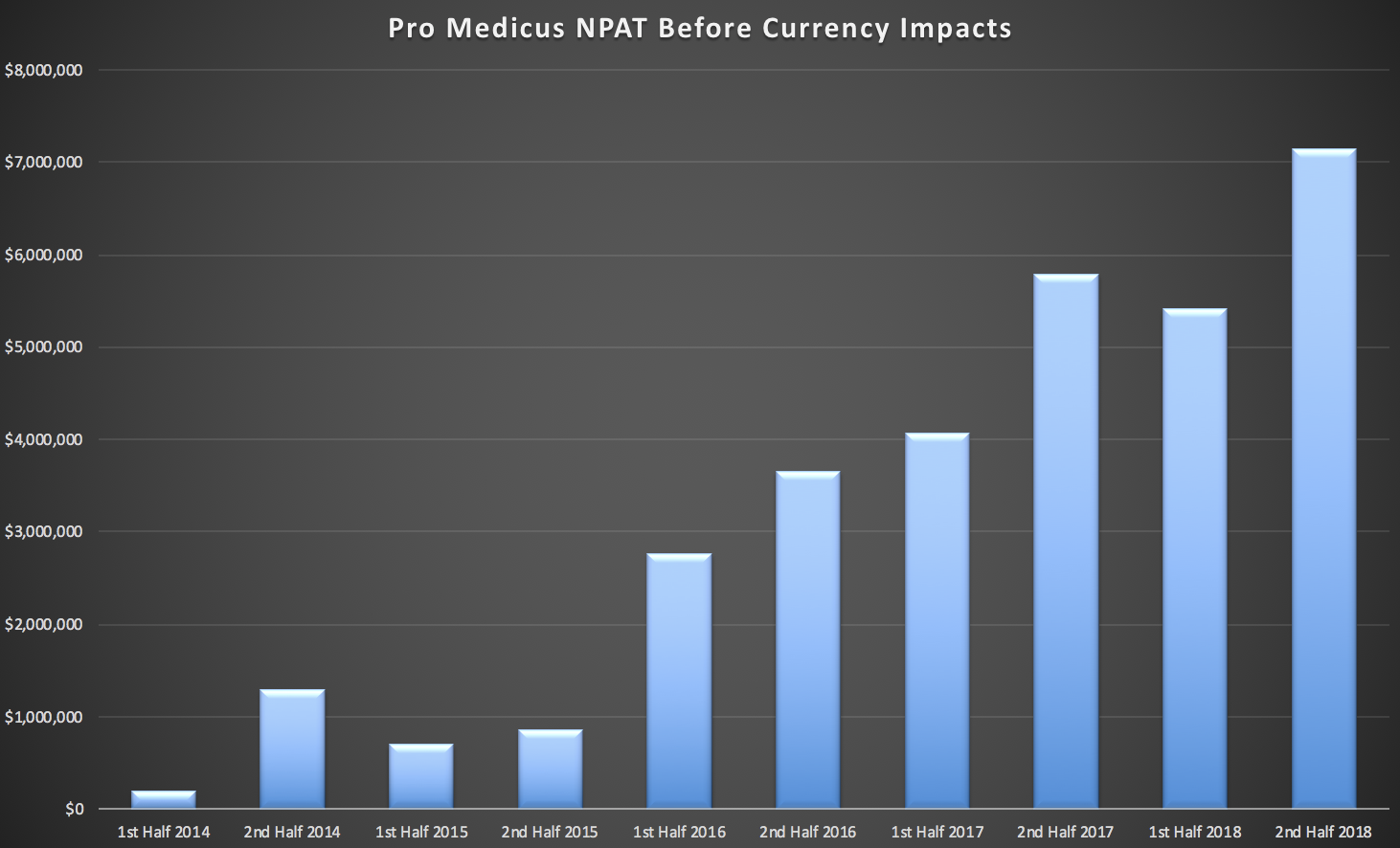 Click to enlarge

Of course, long term shareholders take special note of the North American side of the business, since that is where we hope to see fast and sustained sales growth. As you can see below, the second half produced record revenue from the US, and the half on half growth rate rebounded to over 26%.
Click to enlarge

Importantly, shareholders must note that -- across all its divisions -- Pro Medicus receives both implementation and transaction (or licensing) revenue. Implementation revenue is earned as the company installs its systems, whereas the recurring transaction revenue comes over time as the clients uses the product.
In the first half there was less implementation revenue than there was in the second half of 2017, so we saw a slight drop half on half. It's great to see revenue rebound in the second half. That growth has allowed the company to achieve an EBIT (earnings before interest and tax) margin of over 47%. The management team seem proud of this fact and justifiably so.
The loss of key management, board members, and many other long-serving employees remains a key risk to this business. I was therefore pleased to read that the new long term incentive scheme includes a broader base of management and staff. As a reminder, the co-founders of this company -- Sam Hupert (the CEO) and Anthony Hall are both on the board, and control more than 50% of the shares betwixt them. As an aside, Pro Medicus my data (as you can see below) suggests there is low institutional ownership for a company of its size. I believe it is notable that the company's success has made a big difference to many ordinary people who have placed their faith in the team.

Commentary around qualitative business developments was positive in this most recent report. They have not lost any opportunities from their pipeline in the last six months, which is definitely good news. One of the signs that the company retains technology leadership is that it does not lose many contracts. On that subject, the CEO commented that "we believe we still have a 12 to 18 months lead, if not more. It's not just the technology but also our proven ability to implement in less than a quarter of the time of the industry standard that gives us the edge".
Therefore, it is also significant that the company can boast that "we are still either on, or ahead of schedule with all our implementations".
Operating cashflow was flat at $13.9 million, in large part due to an increase in receivables (and a smaller decrease in payables). The large increase in receivables (over $2 million) was because Pro Medicus "pre-agreed to a deferred payment scheme for two clients in order to fit into their budgetary cycles." That is appropriate.
Free cash flow came in at $7.7 million after $6.2 million expenditure on R&D. This cost has grown slowly and sensibly over the years and I am more than willing to back the team that has already created so much value. However, it's well worth noting that expenditure is about $1 million more than depreciation and amortisation, so we'd expect that line item to rise in future periods.
This performance allowed a 50% increase to the (small) dividend. The balance sheet is rock solid with over $25 million in cash.
The Future
There are many indications that the company will continue growing. Some degree of growth is already locked in. For example, the majority of the revenue from the Primary Health (ASX: PRY) contract is expected in FY 2019. Each implementation is different, but there is certainly a lag time between winning a big contract and booking revenues for it. You can see the big contracts that they've announced in the last couple of years, below:

Click to enlarge

The company aims to expand the use case of its core Visage Imaging technology and it has recently made its first sale of its Open Archive product. If the latter follows the pattern of the former, that may open up the possibility of further sales in the next couple of years. That would be a real positive, since the Open Archive product has real potential to make a meaningful contribution to the company.
Looking further into the future the company continues to work with academic institutions to maximise the long term potential of the Visage Imaging platform. This product should be able to incorporate machine learning tools as those technologies develop.
I own shares in this company (my largest single position) and I intend to continue to hold all of them.
For early access to our content, join the Ethical Equities Newsletter.
The Author of this piece, Claude Walker, owns shares in Pro Medicus. This article contains general investment advice only (under AFSL 501223). Authorised by Claude Walker.