Dental aggregator 1300 Smiles announced a decent set of results today. Here are the highlights:



Over-the-counter revenue up 9.6% to $55.8 million (this includes revenue earned by the self employed dentists that 1300 Smiles provides services to).


Statutory revenue up 8.8% to $39.3 million


Dividends up 4.3% to 24 cents or a trailing twelve month yield of 3.6% based on the current share price.


Earnings-per-share (EPS) up 5% to 32.2 cents


Net profit after tax (NPAT) up 5% to $7.6 million


Free cash flow was $0.2 million compared to $3.6 million last year as the company ramped up its acquisition activity.


Operating cash flow was up 18.2% to $10.4 million


Net cash of $0.3 million


The following chart shows the relatively steady upward trajectory of the company over recent years barring the blip in 2013/2014 which was impacted by the withdrawal of the Chronic Disease Dental Scheme (CDDS). Note there is also a clear seasonality to the business with H1 typically stronger than H2. (Click image to view).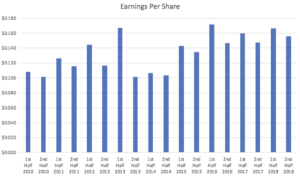 To be honest I'm a little disappointed with these results. I expected more growth given the company acquired five practices during the year on top of the five purchased in 2017.
The following chart shows the revenue contribution of the five acquisitions completed in 2018 split out from the total and the total revenue for 2017.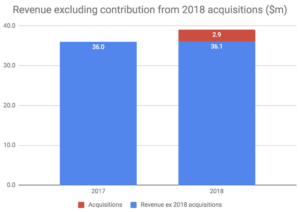 Clearly there is not much in the way of organic growth in 2018. In fact, the current year should have been boosted by the acquisitions made part way through 2017 so it looks as if the pre-existing business shrank. In particular, two orthodontists which settled on 30 June 2017 would have contributed nothing to 2017 and were expected to generate more than $2 million of revenues a year according to an ASX announcement dated 27 June 2017.
I would like to do a similar analysis for 2016/2017 but I can't find a breakdown of the revenue contribution for the acquisitions completed in 2017 in the that year's annual report.
I have some sympathy with the lack of organic growth. The company acquires when times are tough in order to take advantage of low prices and so it stands to reason that the group's pre-existing businesses would also show some strain at these times. I expect organic growth to return as conditions improve and corporate activity tails off.
1300 Smiles remains a good quality business run by effective capital allocators as shown by the consistently high returns on capital it generates as per the following chart. Note the slump following the CDDS termination and recent declines on the back of the current acquisition spree.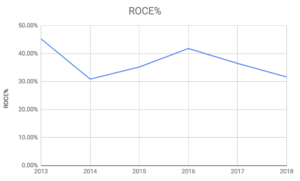 I define return on capital employed (ROCE%) as earnings before interest and tax (EBIT) divided by the average of opening and closing net assets less cash plus debt.
One are worth exploring is the joint venture in Dentist Members Australia (DMA) that was disposed in the year for $400,000. 1300 Smiles previously owned 33% of the company with two other unnamed equal owners (given it is a joint venture rather than a minority interest). Presumably one of the other shareholders is Daryl Holmes as DMA is listed as a related entity in the Directors Remuneration Report.
Dentist Members Australia offers a voucher system to help patients spread the cost of treatment into manageable chunks. The business generated $1.2 million of revenue in 2017 up 30% on 2016 and 1300 Smiles' share of profit was $88,000. Although this is immaterial in the contexts of the groups current revenues and profits, it hints at a promising beginning for the venture and it would have been good to receive an explanation for the disposal from management.
The nature of the disposal was also noteworthy given it was done through a vendor finance loan provided by 1300 Smiles at a fixed interest rate of 2% compared with in excess of 5% for all of the other loans receivable to the company.
Perhaps I am nitpicking and the bigger picture is that I expect revenue and profit to grow in 2019. This is because of full-year contributions from 2018 acquisitions as well as the Noosa one completed in July 2018. Also, the nine chair facility recently opened in Morayfield should add revenue, if not profit.
At the same time there is the potential for the company to realise synergies from the recent acquisitions improving profit margins. With a PE (price-to-earnings) ratio of around 20 times, the stock looks fairly valued to me given its track record of growing through all types of business environments.
I own 1300 Smiles shares and will be holding for the time being but may sell if something better comes along (I will not sell for at least 2 full trading days following the publication of this article).
As for Claude, he informs me he is content with these results and will continue to hold his shares.
Join the Ethical Equities Newsletter.
The Author of this piece, Matt Brazier, owns shares in 1300 Smiles. Claude Walker owns shares in 1300 Smiles. This article contains general investment advice only (under AFSL 501223). Authorised by Claude Walker.