Why I'm Long Bigtincan Holdings Ltd (ASX:BTH): Cracking America
Update 3/7/2019
Please note: The author of this piece, Matt Brazier, has decided to sell his Bigtincan Holdings for the following reasons:
It is too dependent on Salesforce.
It has too many competitors.
It is not sufficiently cheaply priced.
The tech sector in general is rather hot.
The original piece remains below, for those who are interested. I do not hold it either.
-- Claude
-----   --- 
Bigtincan is a SaaS company that sells sales enablement software to medium and large enterprises. Sales enablement software improves the performance of sales, marketing and customer service teams by helping them work seamlessly together. In the process it creates valuable information which management can use to make better decisions.
At its core, sales enablement software helps marketing teams distribute content to sales people. The internet and modern computers have facilitated the creation and storage of huge amounts of information across numerous applications. This is problematic for salespeople, who want to maximise the time they spend selling to customers, as finding relevant content is increasingly time consuming. Bigtincan's software, Bigtincan Hub, solves this problem.
It provides a "single source of truth". All sales content can be accessed from Bigtincan Hub preventing the need to search through multiple applications.

It has a clean, clear and user-friendly interface.

Marketing departments can ensure only up-to-date content is available to sales teams through built-in version control.

Marketing teams can "push" the best content directly to end users.

The best performing content is automatically provided to sales people and content gaps are automatically identified, ie sales opportunities lacking effective content. This provides feedback for content generators (marketing).

Mobile first design and offline capability means that travelling sales people can reduce office time.
The way that Bigtincan Hub recommends content to users is based on ontologies, a technology developed by Contondo which Bigtincan acquired in 2017. Ontologies organise and describe the relationship between data. For example, they are used in Bigtincan Hub to divide sales content into useful categories such as customer industry, opportunity stage and location. The technology labels content automatically providing relevance ratings from one to five for each piece of content for each sales prospect. Gap analysis highlights prospects where no relevant content exists to assist content creators.
Bigtincan Hub collects data and provides analytics to senior management. It records which content is used by who, for how long and when. The platform also records when content is received by customers and cross-analyses it with sales success measures to reveal which content is effective at different stages with different types of customers.
In mid 2018 Bigtincan acquired Zunos, a micro-learning and gamification software company. This brought learning and on-boarding (the process of bringing new sales people up to speed) capabilities to the platform. Micro-learning means that training material is chopped up into small chunks and delivered continuously. Gamification involves the use of virtual rewards and scoreboards to encourage learning. These conceptual tools are a flexible and time efficient way for users to learn.
Content creation and editing capabilities allow marketers to make content within Bigtincan Hub and sellers to tailor it to customers on-the-fly.
Bigtincan Hub also provides communication tools such as chat, call and video. These can be used by sellers to share content which they find useful.
An expanding set of features means Bigtincan Hub is increasingly embedded into the workflows of its customers' sales, marketing and customer service personnel. In addition, Bigtincan targets large organisations with many thousands of end users and it would be complicated and expensive for these customers to switch solutions. Therefore, as with other software companies sharing these traits, it is difficult for competitors to steal Bigtincan's customers.
Customer retention has historically been in the 80% to 90% range which is similar to Xero (ASX:XRO) and is further evidence of customer "stickiness". Perhaps one would expect a higher rate than this given Bigtincan serves larger organisations than Xero and, as argued above, switching costs increase with customer size. Also, large companies are less likely to go out of business which reduces a source of churn. However, Bigtincan defines retention conservatively as it does not net churn against growth in existing customers unlike some peers. This is not because Bigtincan experiences little growth from existing customers. Most customers are large organisations and so typically roll out the solution bit by bit to ensure a smooth transition and also to try before they (fully) buy.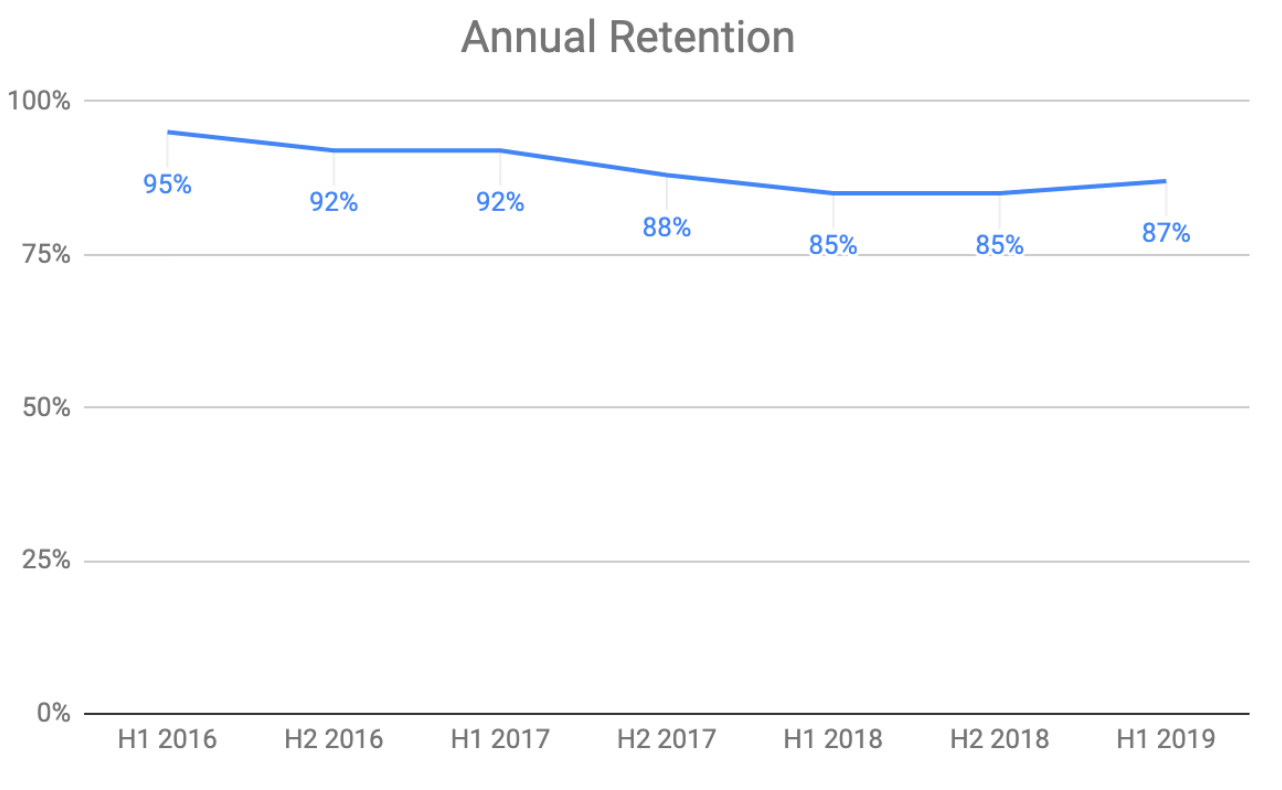 Retention has fallen over time, but remains high. It would be concerning if it continued to fall in the future.
The company has significantly raised prices in recent years and is currently rolling out even more expensive versions of Bigtincan Hub targeting specific industry verticals. As you can see below, gross profit margins are high and have risen over time.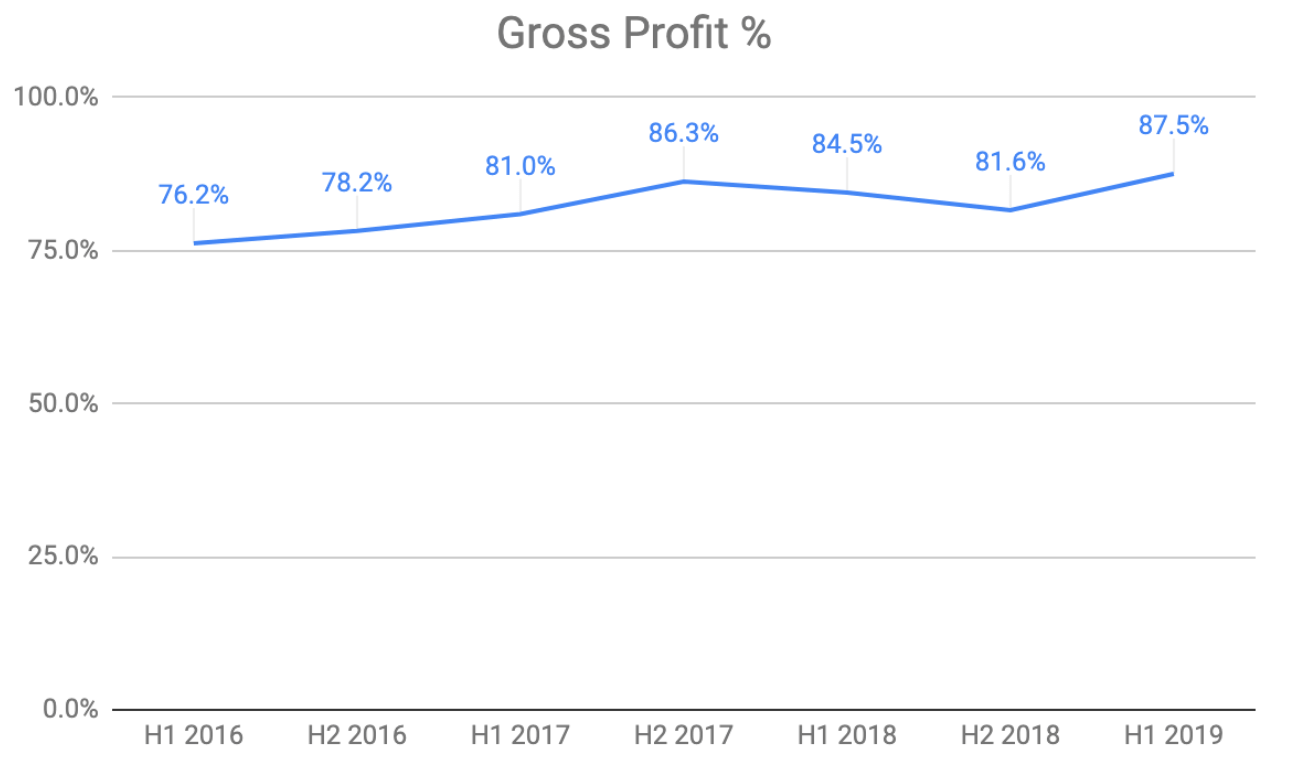 The sales enablement software market is young and growing. As outlined above I suspect Bigtincan is able to defend itself from competition and so should be able to ride the industry wave and ultimately deliver high returns to shareholders. It is possible that switching costs reduce over time, but that has not historically been the case in other segments of the software industry. Furthermore, Bigtincan's content recommendation engine improves with time and so a customer would need to train a new set of algorithms to work optimally in order to switch solutions. Nonetheless, it is something I will be watching out for.
Bigtincan generates 90% of its revenue from the US. Competing successfully in the US shows that Bigtincan is a world leader in sales enablement. Even highly regarded and locally listed Xero is struggling in the US.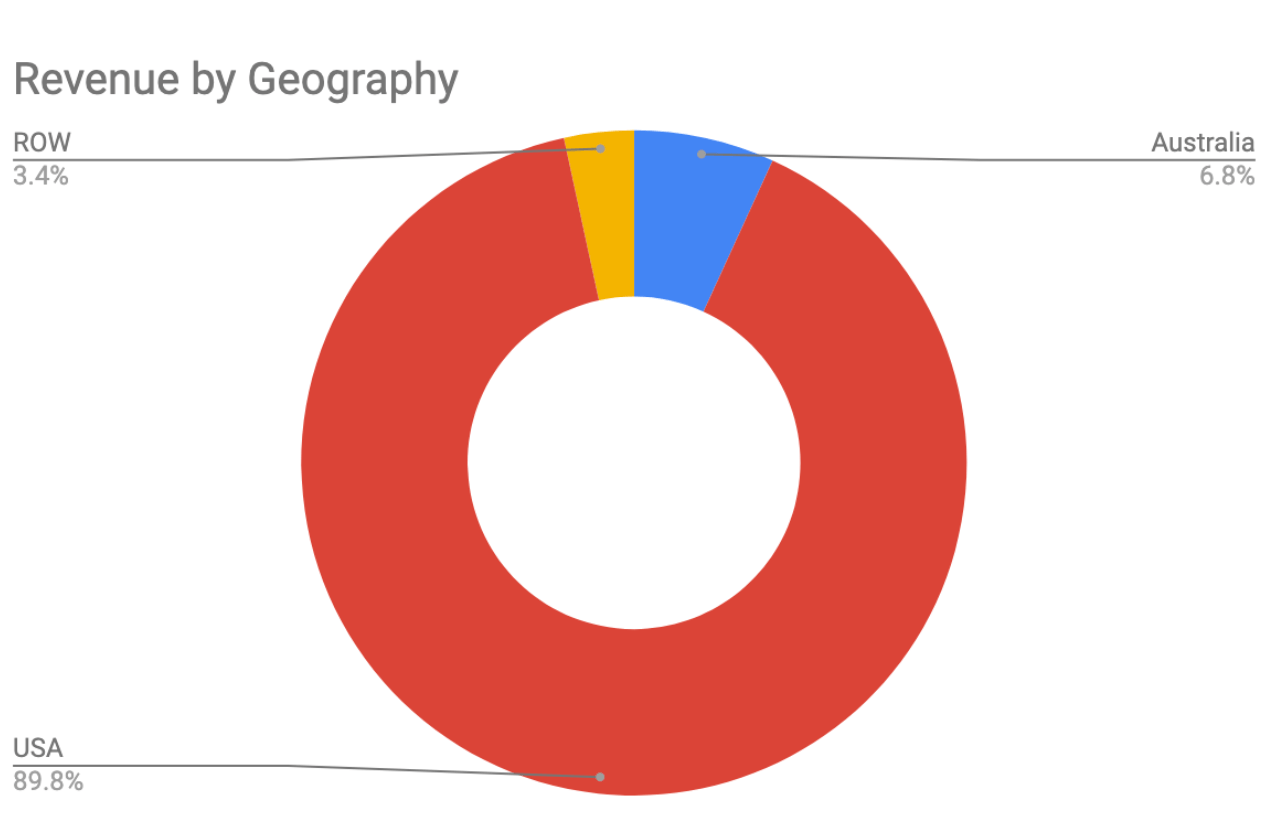 As you can see below, monthly recurring revenue has grown strongly in the last few years.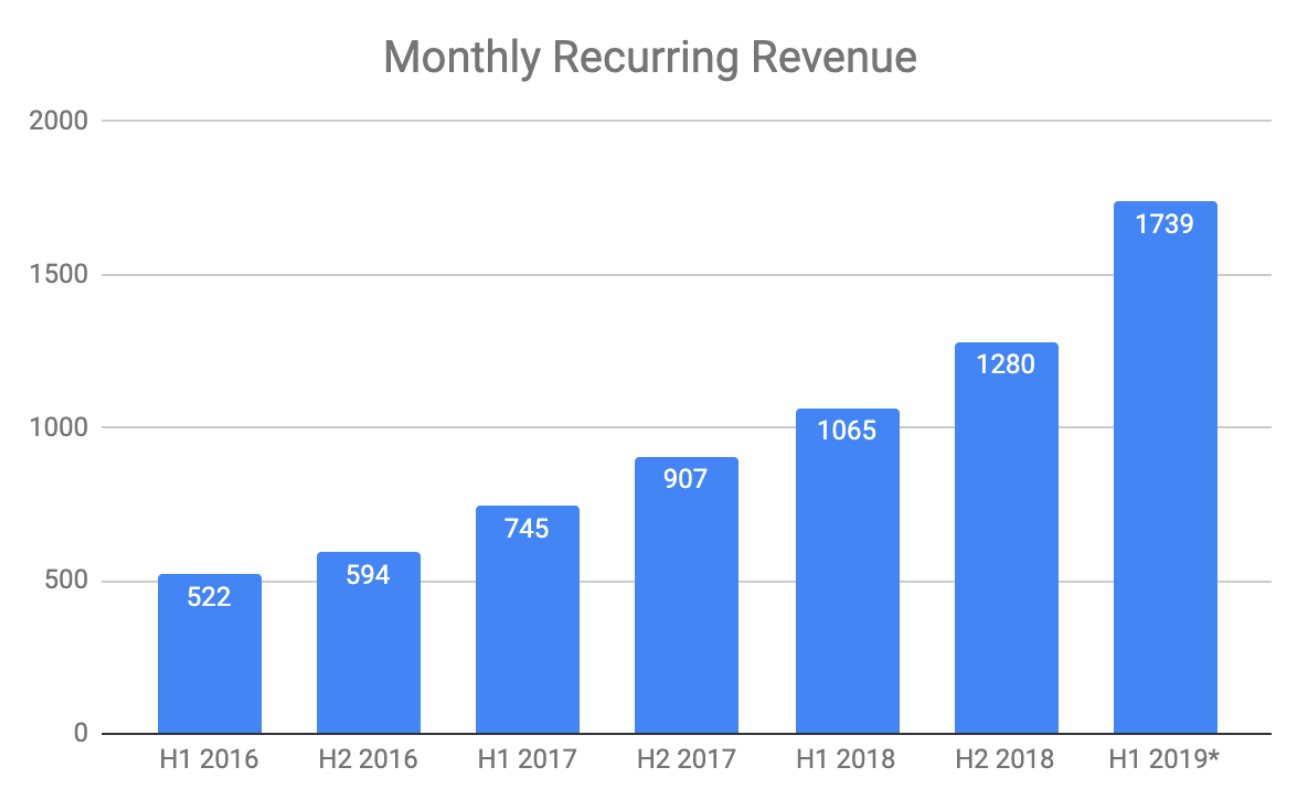 *The first half of 2019 includes contributions from Zunos and FatStax of approximately $380 thousand based on information provided at the time of the acquisitions.
And this has translated into increasing statutory revenue, as you would expect.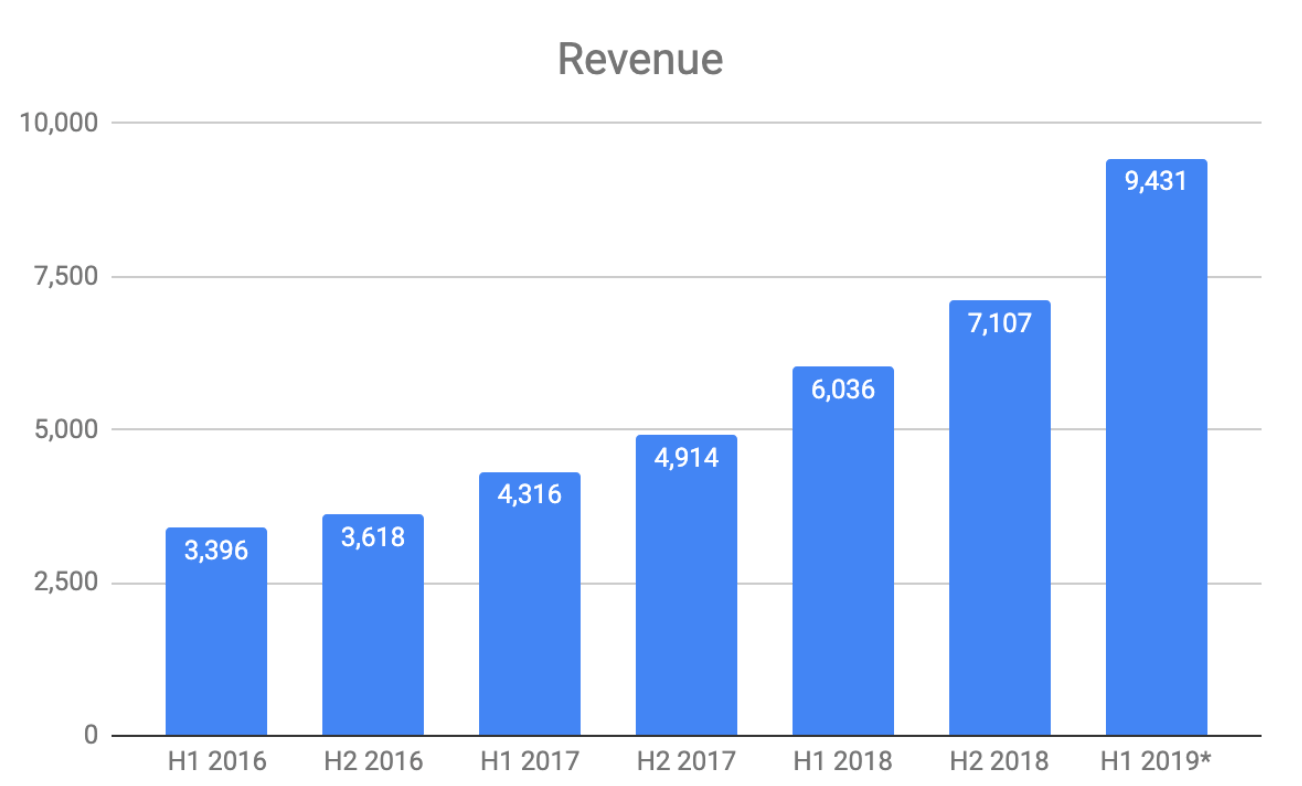 *The first half of 2019 includes contributions from Zunos and FatStax of $1.1 million. Organic revenue growth was 39% over the prior corresponding period.
Strong revenue growth and multiple industry awards including the 2017 CODiE award for Best Sales Enablement Platform suggest that Bigtincan Hub is among the better solutions in the market. A roster of blue-chip clients including Fortune 500 companies like AT&T, Merck and Siemens hints at the same.
CEO David Keane told me that Bigtincan is one of four key players in the sector, the others being Seismic, Showpad and Highspot. Seismic has the largest market share while Highspot reportedly doubled revenue last year according to the 2018 Gartner Market Guide for Digital Content Management for Sales. David said that Highspot focuses more on inside sales ie office bound sales people rather than mobile sales which is where Bigtincan specialises.
David told me that the key advantage Bigtincan has over many of its competitors is that it owns the entire technology stack. He argued that this is important because it gives Bigtincan greater control over data and more flexibility to respond to technological developments compared to relying on third party platforms. For example, he showed me how it is possible to open, edit and present Microsoft PowerPoint files from within Bigtincan Hub rather than having to use PowerPoint itself. This enables Bigtincan to automatically capture the data associated with such an interaction which would otherwise be lost.
David is a serial entrepreneur having founded Veritel Wireless which grew rapidly to become one of the largest fixed wireless providers in Australia before it was acquired by BigAir Australia (formerly listed on the ASX). The other co-founder, Steve Cohen, passed away in late 2017 shortly after the company listed.
David is passionate about Bigtincan and focussed on continually evolving the company's technology to meet the needs of sales people. During a video call, he enthusiastically showed me various cutting edge Bigtincan product features including augmented and virtual reality. This is reassuring as continuous investment in innovation is necessary for a software company to remain competitive.
There was a mix-up in the organisation of our call which I later found out was my fault. Consequently, David was driving to from Boston to New York when I phoned unexpectedly at 6pm. Not only did he take my call, but he returned to the office and gave me a product demo, spending one and a half hours in total with me. This says something about his commitment towards Bigtincan in my view.
There are three negative and seven positive Bigtincan employee reviews on Glassdoor. The positive reviews all seem to be written by sales people, while the negative ones all complain about the sales team overpromising product features to customers. I thought this may explain Bigtincan's slightly disappointing churn and could be related to the fact that the sales team is primarily located in Boston whereas operations and product development is in Sydney. David said that he did not think either was the case, but that the issue was the result of teething problems typical of an immature fast growing business.
I also asked David about the typical reasons that a customer leaves. He said that often it is because the person within an organisation championing Bigtincan leaves, internal budgets get cut or customers think they can build the product themselves. At this point I thought that David may be unwilling to acknowledge the company's flaws, but perhaps everything is as benign as he seemed to suggest.
Bigtincan has made a number of what look to me like savvy acquisitions since listing. The first, Contondo, was acquired in late 2017 and provided Bigtincan with the ontology technology described earlier. The second was Zunos and it added training features based on micro-learning and gamification as well as tier one clients including American Airlines and SonyPlastation. Finally, Fatstax brought with it the ability to create high quality and user friendly digital catalogues fed directly from a customer's ERP system. This technology is useful to businesses with a large number of complex SKUs explaining why Fatstax has a strong customer base in the manufacturing vertical.
Bigtincan incurs little capital expenditure (including intangibles) and so operating cash flow is a decent proxy for free cash flow. As can be seen below, the company is still burning cash.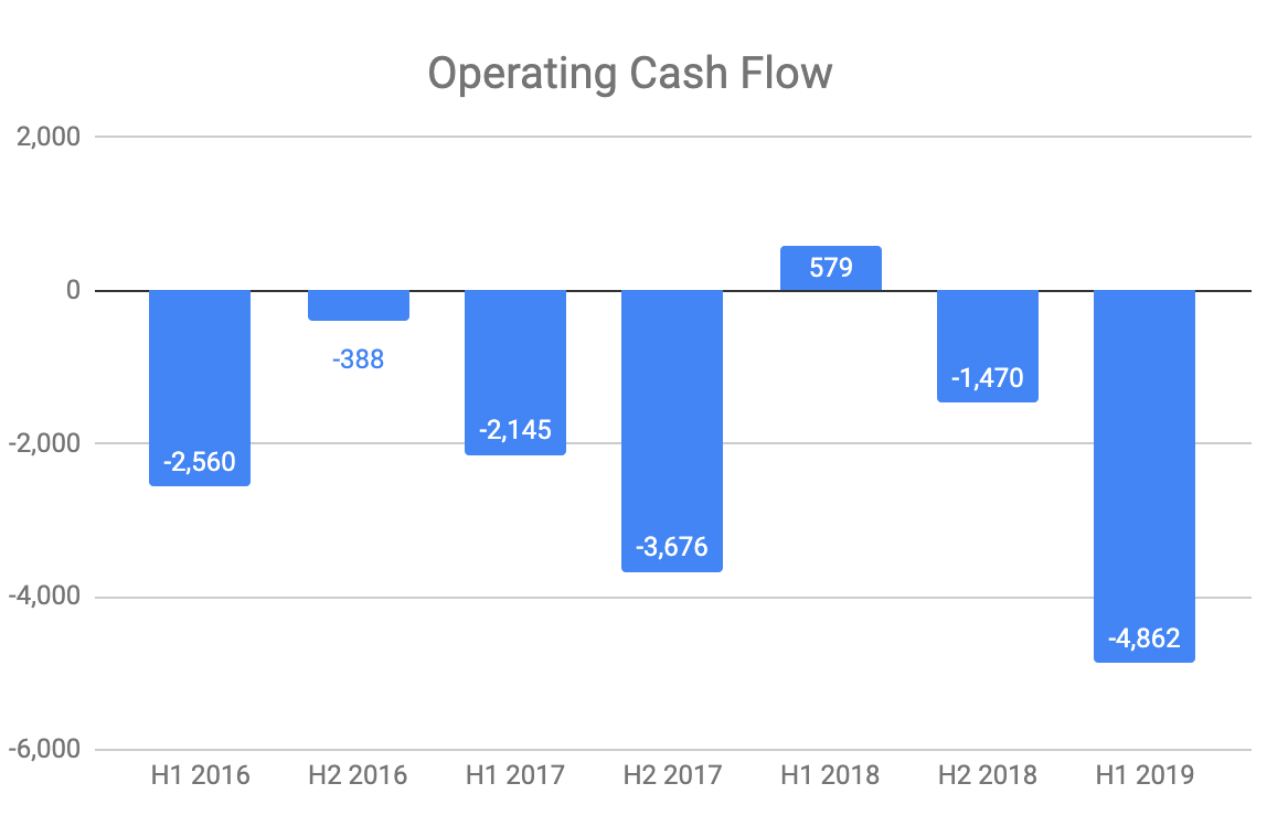 Following an ongoing rights issue at 42 cents per share, closing May 10, Bigtincan should have over $20 million in cash by my estimates. I believe the company could reduce discretionary investment to become profitable if it was unable to raise more capital in the future. It is pleasing that the company is raising funds through a rights issue this time around because this is fairer to all existing holders than only using an institutional placement.
Based on comparisons with other enterprise software businesses, Bigtincan could achieve a 20% after tax profit margin at maturity. Annualised recurring revenue (ARR) was $21 million at the end of December 2018 and since then the company has been awarded two new multi-year contracts with a combined value of $10 million. Assuming ARR is now around $25 million, net profit would be $5 million at a 20% margin.
After the retail offer is completed, the company will have a market cap of about $132 million at a share price of 51 cents, implying an enterprise value of circa $112 million. Revenue is forecast to grow 40% this year (albeit assisted by acquisitions). Previous years have always seen organic revenue growth of more than 30%. $112 million seems like a reasonable price for such a fast growing business with many high quality features.
Disclosure: Matt Brazier owns shares in Bigtincan and will not trade for at least two full trading days following publication. This article contains general investment advice only (under AFSL 501223). Authorised by Claude Walker.
Check out Matt's new investment diary.
For early access to our content, join the Ethical Equities Newsletter.
Ethical Equities is currently underfunded. If you don't yet use Sharesight, please consider signing up for a free trial on this link, and we will get a small contribution if you do decide to use the service (which in turn should save you money with your accountant, or time if you do your own tax.) Better yet, you can get 2 months free added to an annual subscription.
Note from Claude: While I do not own Bigtincan shares I may purchase some in the future, but not for at least two days after this article is published.