Vista Group HY 2019 Results and Valuation Downgrade
This morning Vista Group (ASX:VGL) reported its results for the first half of 2019 and they were very disappointing, sending the shares down by about 30% to $3.60 (AUD), at the time of writing. Please note, all currency below is NZD unless stated otherwise.
As a reminder Vista software provides modules for stocking food and drink, mobile ticket scanning, web bookings, loyalty programs, and assessing the performance of specific movie titles. It has a huge global market share, as you can see in the map below.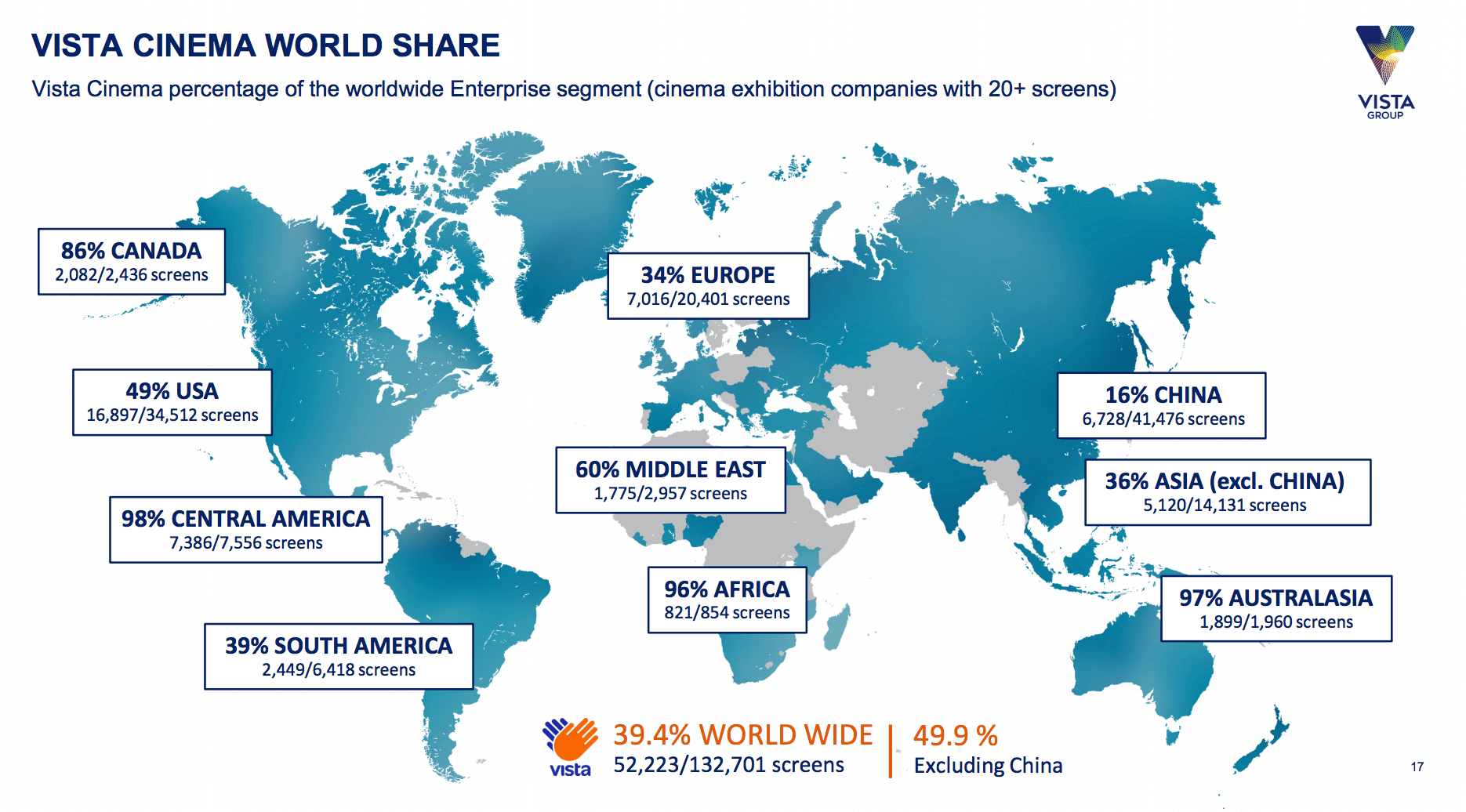 While revenue did grow by over 10% on the prior corresponding period, to $67 million, that was down slightly on the second half of 2018 (recall that Vista reports on the calendar year). The core vista cinema software did reasonably well, but Movio saw its EBITDA contribution fall back, as did the earlier-stage investments. You can see what I mean in the graph below.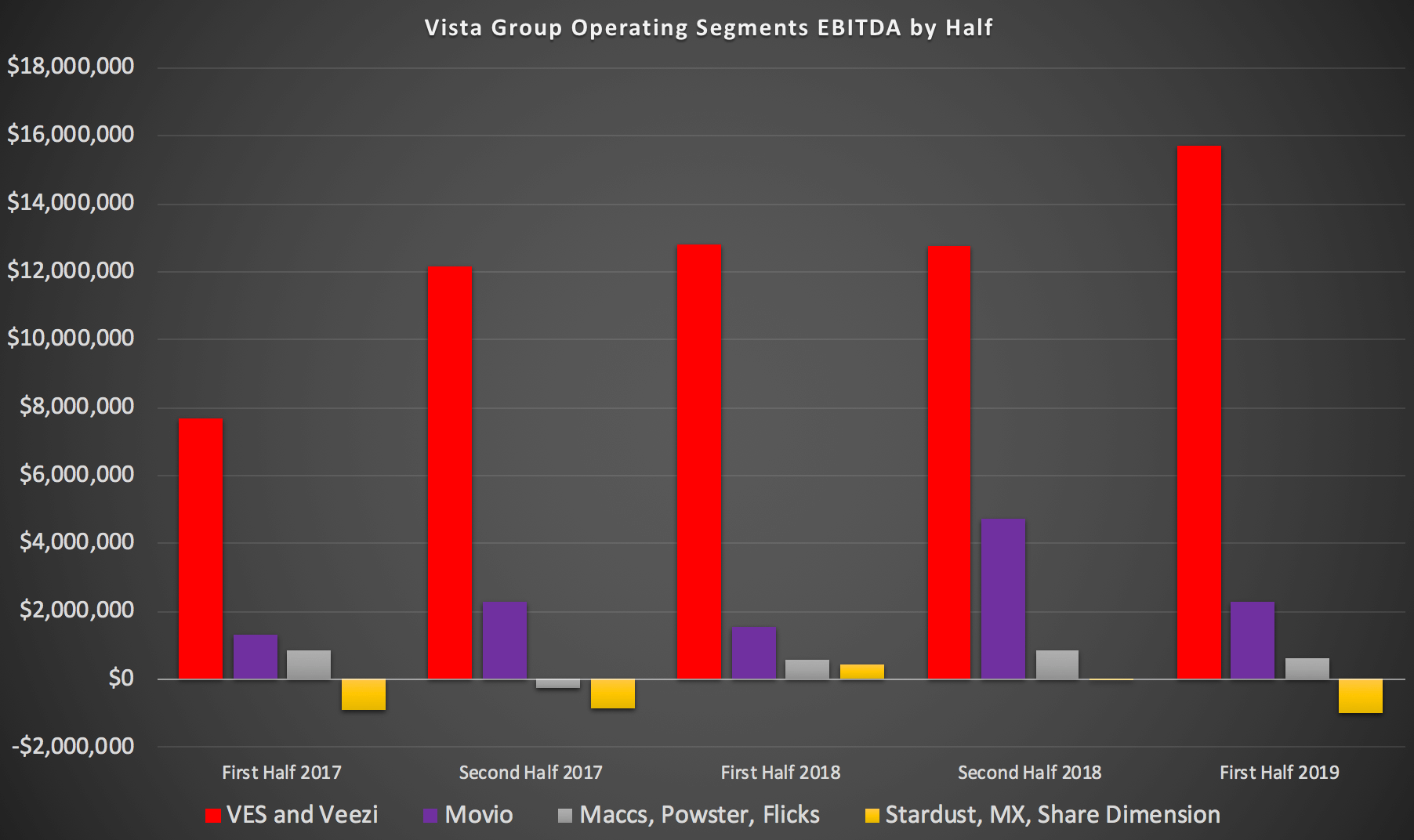 Looking to the bottom line, there was absolute carnage, with a $5 million increase in administrative costs leading to reduced profit (excluding currency impacts), which came in at $4.1 million for the half, down on $5.7 million last year. Probably the most concerning aspect of this result for me is that I would have preferred if management showed more cost discipline. On the call, the CEO called out the "Biennial customer conference" as one reason administrative costs went up, and also seemed to imply that revenue was less than hoped, commenting that, "one of the elements of a business such as this is that the timing of revenue doesn't always fall exactly as we would like".
Free cashflow unfortunately went negative, with an outflow of around $3.4 million, due to weak operating cashflow, the derecognition of one partly owned subsidiary's cash balance, and increased software development expenditure.
One of the issues with Vista Group is that it is on an old software model and not a recurring software as a service model. The company says it has $41 million of recurring revenue during the half. That would imply annualised recurring revenue of around $80 million. Compared to other growing software companies, then, Vista would not seem particularly over-priced after todays share price fall, which puts it on around 8 times hypothetical annualised recurring revenue.
The bigger news from today's release was that the company will go to 100% SaaS "as fast as we can". This process will incur substantial short term pain for substantial long term gain. I hate to say it, but it is probably the right move, and the company should probably have done it a long time ago. It is a testament to its business model that it has been able to tie up so much of the market without a proper core SaaS model. The reason for this is a proper SaaS offering will enable it to roll out upgrades to clients much more regularly and cheaply. This in turn will maximise the benefit they gain from the cinema management software.
Conclusion
I have previously outlined why I was holding my Vista shares, and valued them at "about $5 Australian". Unfortunately, it seems like I was wrong on that valuation, at least in the short term, and I apologise to anyone who relied on it. If I had sold at that price, I'd be 28% better off on the holding. I feel very bad for getting this one wrong.
Having said that, I still think that the company will emerge from this ordeal quite a bit strong. Compared to other entrenched enterprise software stocks, I think it is quite attractively priced. Even so, I am now lowering my valuation to about $3.10 Australian, which means it is not attractively priced at the current price of $3.65. 
Over the next week, I plan to sell some of my Vista Group shares, since it is still a reasonably big holding for me, even after getting smashed today. I'm not sure how many I will sell, and I don't know what the price on offer will be. I think one day shares will be worth a fair bit more than the current price, if they can execute on the business transformation to fully SaaS. However, I believe the time to buy will be once there is evidence they can execute well.
I currently intend to hold at least some shares for the whole journey, or until it becomes clear they will fail on execution. If it looks like they are succeeding, I will try to buy back my shares.
I am very disappointed in this investment, and I think it will be one of my bigger losses this year. However, that's what happens sometimes on the stock market sometimes. I am nonetheless, very sorry to my readers and listeners.
Disclosure: Claude Walker owns shares in Vista Group and is planning to reduce his holding soon.
For early access to our content, join the Ethical Equities Newsletter.
If, somehow, you are not already using Sharesight, please consider signing up for a free trial on this link, and we will get a small contribution if you do decide to use the service (which in turn should save you money with your accountant, or time if you do your own tax.) 
This article does not take into account your individual circumstances and contains general investment advice only (under AFSL 501223). Authorised by Claude Walker.
"The Ethical Equities website contains general financial advice and information only. That means the advice and information does not take into account your objectives, financial situation or needs. Because of that, you should consider if the information is appropriate to you and your needs, before acting on it. In addition, you should obtain and read the product disclosure statement (PDS) of the financial product before making a decision to acquire the financial product. We cannot guarantee the accuracy of the information on this website, including financial, taxation and legal information. Remember, past performance is not a reliable indicator of future performance."