The outlook is good for the Hypothetical Ethical Investor - but before we talk about our hypothetical friend, we should probably do the housekeeping.
His portfolio lost Fiducian Portfolio Services (ASX:FPS) at price of $1.88, a fact I noted here, prior to my last real-life sale.
As I write the ASX All Ordinaries (INDEXASX:XAO) sits at 5,185, below where it was for all but the first hypothetical pick. Indeed, had the hypothetical ethical investments tracked the market, we would have a return of -2.58%. Instead, the average return is 33.81%, demonstrating outperformance of 36.38% over the share market at large. While the portfolio remains a work in progress, you will never get to see its progress, because this is the last ever hypothetical ethical share portfolio update.
The picture is sweeter when we include dividends, with an average total return of 37.12%, a figure that would balloon further were it to be annualised (the average holding period is less than a year).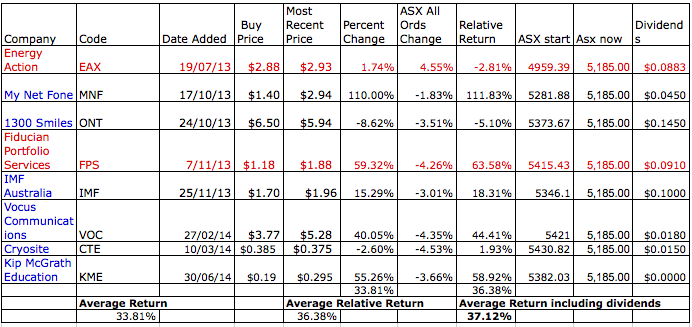 Now, on to the more important question: why must we bid adieu to the Hypothetical Ethical Investor himself?
A hypothetical explanation:
In August 2014, the hypothetical ethical investor found himself feeding a stonefish to a reef shark 20m under the water surface. The locals living on the island - La Providencia - were determined to keep the invasive species under control, as the fast-breeding stonefish are threatening the biodiversity of the reef. Wouldn't it be nice if all these colourful and fantastic species were alive for my (hypothetical) great grandchildren to see, he thought.
As the small shark ripped the fish from the spear, it occurred to the hypothetical ethical investor to short sell Whitehaven Coal shares, which had recently drifted to the ridiculous price of over $1.90 each.
When the shares plunged another 8% to $1.50 on Friday, he closed out 80% of a Livermore-sized position and started making retirement plans.
He has recently departed Sydney to the North of New South Wales where he will take residence in a tree house. From this leafy abode he will start his days with an organic soy latte, and start on exquisitely chosen chilled Chardonnay at around 4.30pm most afternoons. The hypothetical ethical investor is in good health (it's the yoga), and takes heart from the fact that people like you actually give a damn. He knows he's lucky, and he wishes you the best of luck for the rest of your lives.
While the above 4 paragraphs are fictional, it is true that there will be no further updates to the Hypothetical Ethical Share Portfolio. It's over.
Nothing on this website is advice, ever. The author holds positions in Cryosite Limited ASX:CTE, Vocus Communications Limited, ASX:VOC, 1300 Smiles Limited, ASX:ONT, My Net Fone Limited, ASX:MNF, Bentham IMF Limited, ASX:IMF and Kip McGrath Education Centres Limited, ASX:KME.