Strong Growth for Nearmap Ltd (ASX:NEA)
Aerial mapping company Nearmap Ltd (ASX:NEA) today reported strong revenue growth for the first half of 2019, with a massive 45% increase on the prior corresponding period. Better yet, the loss narrowed to just $2 million and free cash flow shifted in the right direction, albeit remained negative at an outflow of about $4.4 million. Importantly this highlights the fact that at this stage of growth free cash flow comes in well under profit, not that the market is concerned about either of those metrics given the company has over $80 million of cash to chew through.
Rather, we'd posit the market is mostly looking at the annualised contract value (ACV) which reached $78.3 million (AUD). You can see tracked in the chart below (US ACV in US dollars).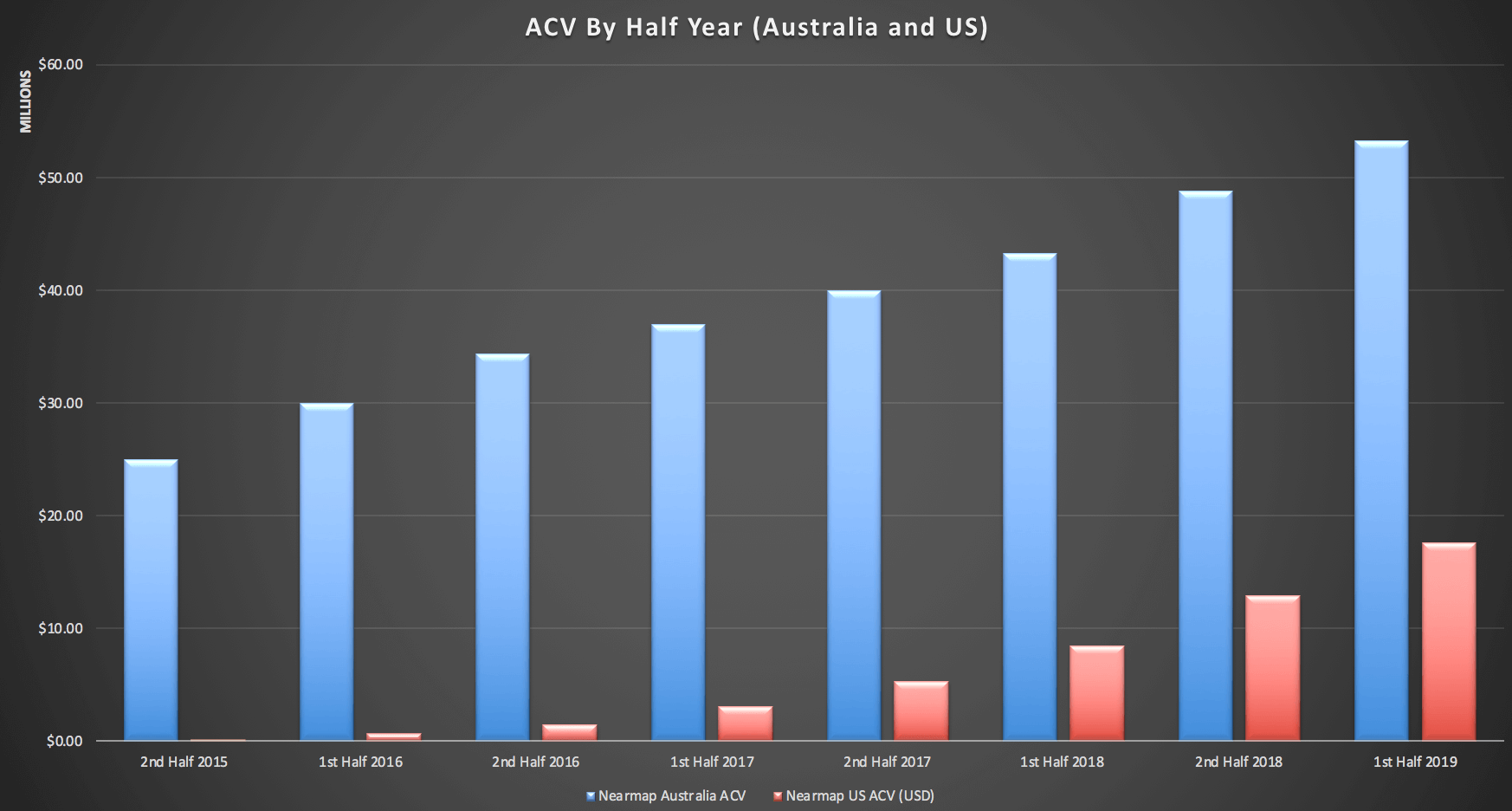 Now, the fact is that in absolute terms half-on-half Australian ACV growth slowed by a small amount, not a major concern given the maturity of that market.
Meanwhile, in absolute terms the half-on-half US ACV growth actually increased (in USD) which is basically what you want to see, a "green flag" so to speak.
Given that the amount of money incinerated to drive this growth is rapidly diminishing there is no real surprise that Nearmap is catching the imagination of the market, and achieving a valuation which now amounts to an enterprise value of about 12 times ACV. The main thing that makes me hesitant to buy Nearmap is that I can see other software as a service companies on a similar multiple of recurring revenue that have higher margins. Few have higher growth, and I clearly underestimated the pace at which Nearmap would be able to up-sell into existing clients. 
Previously my valuations of Nearmap have been too low, and it may simply be my focus on smaller companies means that once a company reaches a $1 billion market capitalisation while still losing money I don't have a good feel for what the market will pay. Seems like people will really pay up. The lesson for me here is probably don't sell my successful small-cap growth stocks to early because as they grow the market will perversely often pay a higher multiple, even though growth is inevitably slowing in absolute terms.
Meantime, Nearmap is an example of a successful Australian business that is making waves overseas, showcasing our local tech ingenuity. Good on them, I say. We need more of that.
These results look good to me, and while I am not currently intending to buy Nearmap shares I consider it a viable candidate for my portfolio.
Finally I'd like to acknowledge my friend Mike King who passed away too young, but was perhaps the first commentator to publicise Nearmap. He wrote this article touting the stock when it was about 26 cents. That's about a 10-bagger if you bought and hold. Mike was a mentor to me who encouraged and supported me in my career and he is missed by many.
For timely coverage of small-cap stocks, join the Ethical Equities Newsletter.
Disclosure: The Author, Claude Walker does not own shares in Nearmap. This article contains general investment advice only (under AFSL 501223). Authorised by Claude Walker.