Claude Walker's Portfolio Performance Update
I've recently been thinking a bit about whether my skills are most useful as a research analyst and investor, or if they are most useful as an analyst and writer. Although they are obviously related, it's possible that some analysts could be better off focusing purely on investing, while others are most valuable as communicators.
While I think I get the most gratification out of communicating about ethical investing to my readers, I don't want to be limited to that sort of role. Ultimately, I get the most satisfaction out of successfully investing; but it remains to be seen whether professional investing is the optimal setting for me to succeed as an investor.
Without further ado, a review of my returns to date. (Note that I'm a Sharesight beta tester so the graphs are not as granular as they are for most people - the beta version calculates faster but the proper version looks better). The returns calculation methodology is annualised and money weighted. Find the details here.
Ethical Equities Portfolio: 1 Year Return to May 15 2019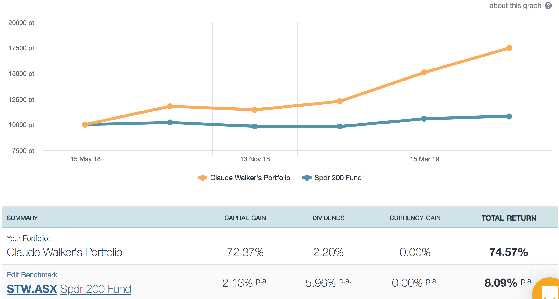 Ethical Equities Portfolio: 2 Year Return to May 15 2019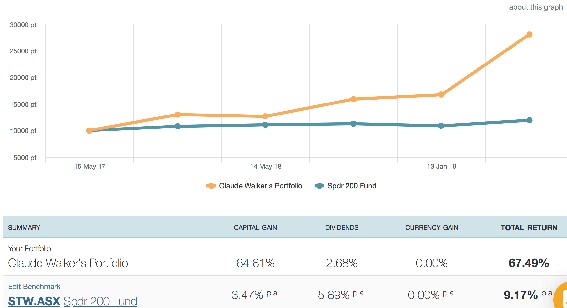 Ethical Equities Portfolio: 5 Year Return to May 15 2019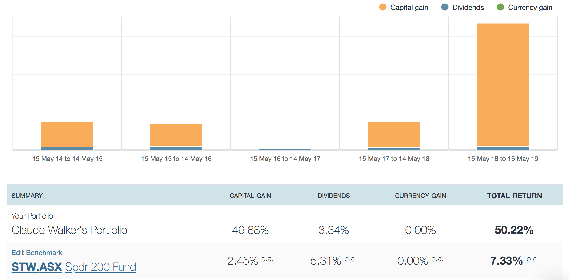 Top 5 Winners Over 2 Years
The most profitable 5 stocks over the last 2 years on an absolute basis have been: PME, KME, NEA, AD8 and ANO.
Worst 5 Losers Over 2 Years
The biggest losses over the last 2 years were suffered as a result of investing in: RBL, IAB, HCT, MUA, and XPL (formally MGP).
A Lesson For Me
Looking at the last 2 years of winners and losers, it's pretty clear to me that I did a lot more work on the winners before accumulating a full sized position. So taking my time was not costly. While I did study Mitula closely, I simply got it wrong. But except for Mitula I built full sized positions in the other losers far too quickly, before I had really followed the stocks closely for long. These losses would have been lesser if I had built my position over the course of 6 months, rather than a few weeks. This observation reinforces my resolve to only build full positions over time as I do more research and if I have followed a company closely for at least 6 months, but preferably more.
Remember: Our Best Research Is Hidden
Only subscribers to the Ethical Equities newsletter receive our best and most actionable research. Sign up here to automatically receive a link to this hidden content. 
Dear reader,
Ethical Equities is currently unsustainable, costing thousands per year in regulatory fees.
If you'd like to see us survive, and you don't yet have a Sharesight account, please consider signing up for a free trial on this link, and we will get a small contribution if you do decide to use the service (which in turn should save you money with your accountant, or time if you do your own tax.) And  on top of that you can get 2 months free added to an annual subscription.
Thank you for your support!
This article does not take into account your individual circumstances and contains general investment advice only (under AFSL 501223). Authorised by Claude Walker.