The highlight of the recent MedAdvisor (ASX:MDR) annual results for FY 2018 was undoubtedly the fact that revenue from continuing operations reached $6.6 million, some 50% higher than last year. To the company's credit, they highlighted this operational number as well as the more flattering $7.4 million in revenue, once you include R&D grants. It made a statutory loss of $4.5 million.
However, at this stage in the company's development I find it much more useful to look at the cashflow excluding R&D grants. As you can see below, the company is trending in the right direction but growth is not particularly fast.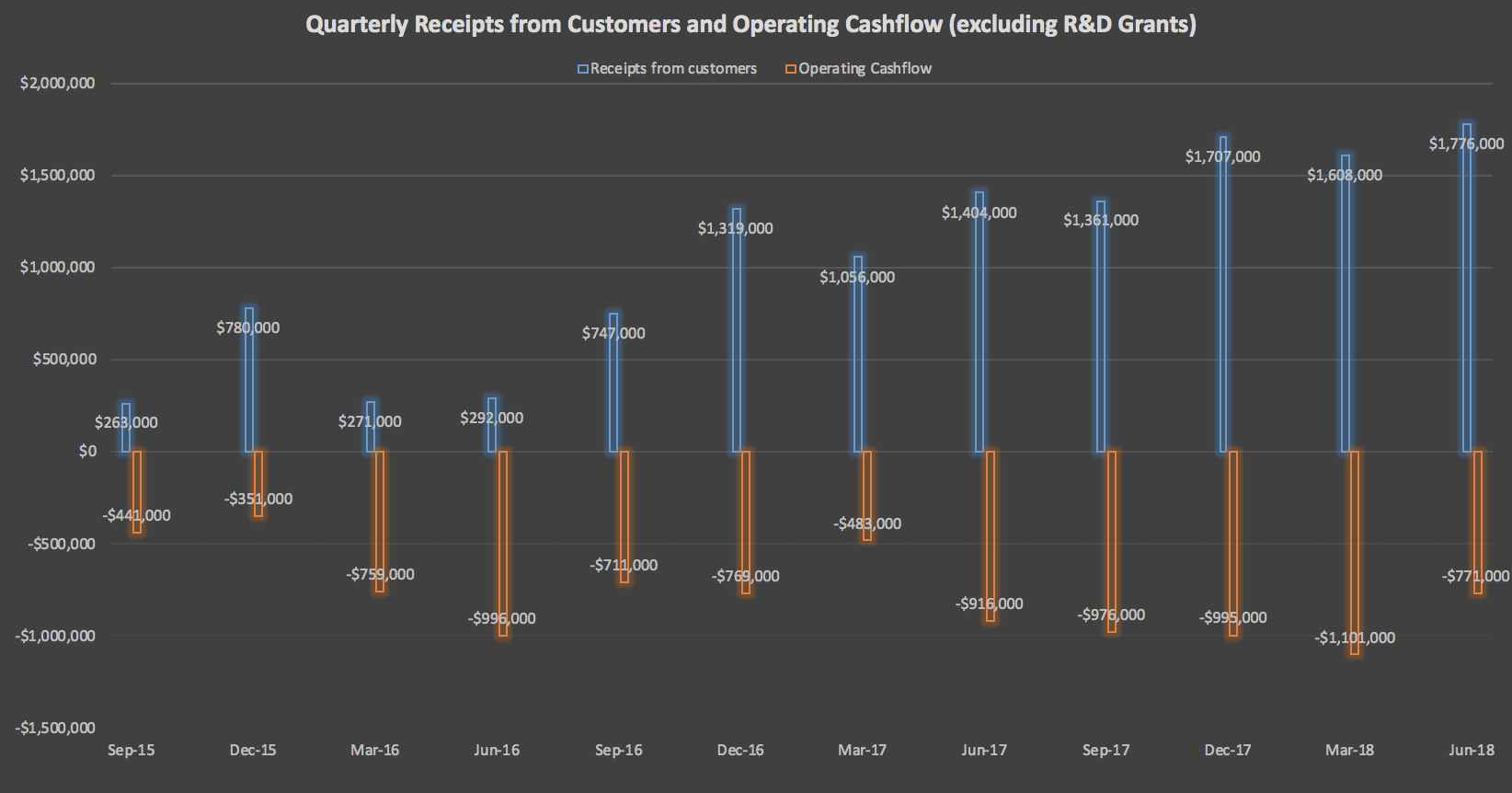 Importantly, the company said "the development costs will increase in FY19," because it "will progress the technology integration into its US partners' systems in order to begin entry into the US market as well as preparing for entry into the UK market."
Perhaps the best bit of news in this report was that we saw a solid half-on-half increase in both patient engagement clients and patients per pharmacy, as you can see below.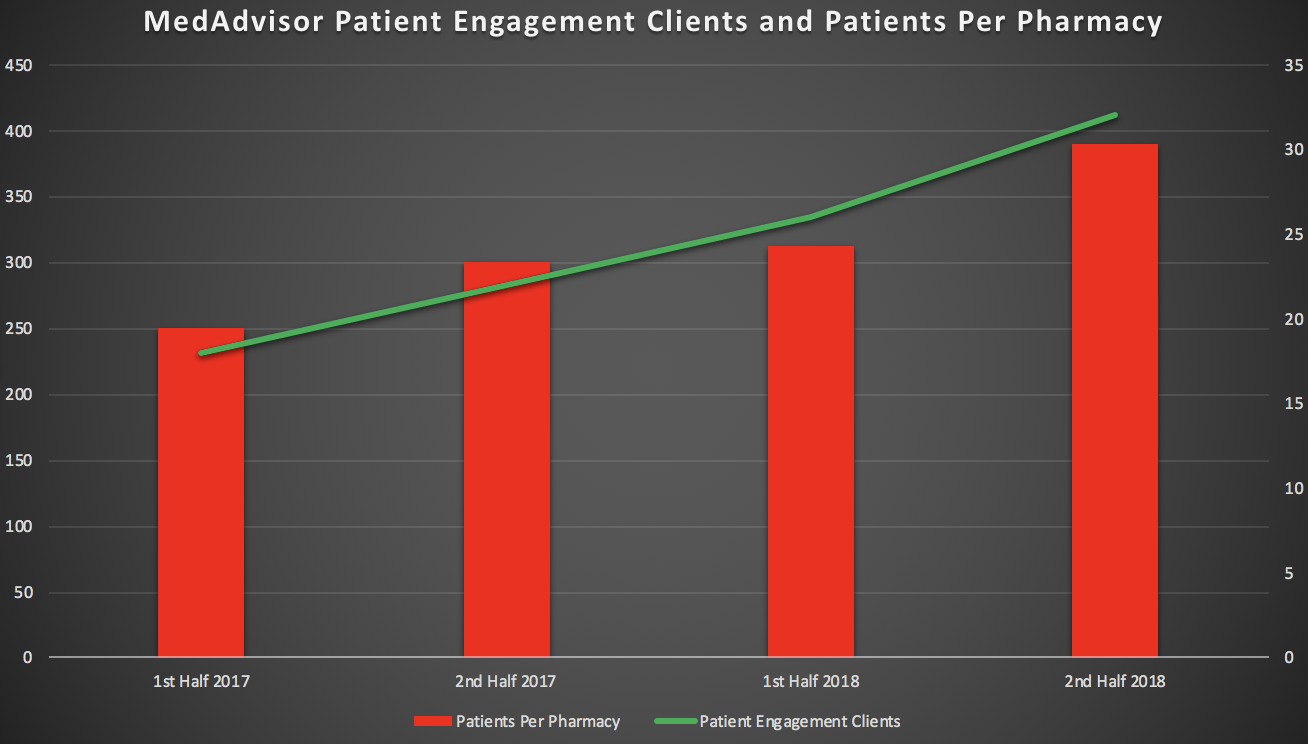 This is good news because increasing patients per pharmacy suggests that PlusOne is adding increasing value for its clients -- eventually that will bring rewards. One of those rewards is through selling patient engagement programs, which are a key way the company monetises its user base. Importantly, this half on half growth in core metrics came without the benefit of an acquisition.
One hesitation I have with MedAdvisor is that costs are quite high. However, the good news is that the company has about $10.5 million in cash on the balance sheet thanks to the investment by EBOS Group (ASX: EBO). I own shares in both companies.
I estimate MedAdvisor can make it through 2019 without needing to raise capital again, even despite increased costs. However, it is increasingly important that we see strong organic revenue growth in FY 2019, or else the spectre of a dilutionary capital raising at low prices will arise. This growth will rely on recently signed agreements with TerryWhite Chemmart (TWCM), Zest and HPS.
One way in which MedAdvisor makes a beneficial contribution to society is by helping pharmacies increase the amount of services they provide. For example, "The Flu Program, launched by MedAdvisor, resulted in the near-doubling of flu shots recorded by its pharmacies. PlusOne recorded over 100,000 flu shots." This outcome is win-win-win for pharmacies, patients, and MedAdvisor, since "the increased capabilities also enabled MedAdvisor to increase its subscription fees by ~20% during the year."
Looking forward, there is lots going on at MedAdvisor. It needs to keep improving PlusOne, whilst simultaneously launching into the US. Many companies have found international expansion to be much harder than predicted, so the short term outlook might be a bit disappointing: these things often take longer than management think they will. Unfortunately, the company has had a tepid response to its feature that allows patients to re-order scripts remotely.
On the bright side, if the company can leverage its software into international markets there is a genuine possibility that it will be worth multiples of its current market capitalisation in a few years. There's no doubt that this strategy has risks, but it seems absolutely worth trying.
Zooming right out MedAdvisor is essentially a play on the fact that this kind of sensitive data -- in the right hands -- can be very valuable at driving outcomes for business and patients alike. For example, "MedAdvisor has… assessed from the de-identified data of 1.3m patients on chronic medications in Australia that Australians only take their medications 54% of the time." Their system makes it easier for Australians to ensure supply of medications, which is a positive in my book.
Leading pharmacy brands using the PlusOne platform include Discount Drug Stores, Blooms, Good Price Pharmacy Warehouse, Amcal, Optimal and TerryWhite Chemmart. As it improves, with time, MedAdvisor can create sticky long term relationships with these businesses who are themselves fairly defensive. The company is investing in its engineering team so as to continuously improve the offering.
There's no doubt MedAdvisor is a fairly high risk investment. I have a small holding in my portfolio and I intend to hold on to it for now (but I'm not planning to buy more, either). I'm a little concerned about what the bottom line will look like in FY 2019, but I continue to believe this is one company well worth watching and I remain optimistic for the long term.
For early access to our content, join the Ethical Equities Newsletter.
Disclosure: Claude Walker both owns shares in MedAdvisor and EBOS Group at the time of publication. This article contains general investment advice only (under AFSL 501223). Authorised by Claude Walker.