Laserbond (ASX:LBL) FY 2019: Triple Digit Profit Growth
Additive manufacturing company Laserbond Limited (ASX:LBL) released its full year results for 2019 earlier today. At the time of writing, its share price has gained 18% to 57 cents, up 137% from when we initiated coverage on it last year. Revenue rose 44.9% to $22.7 million, net profit after tax (NPAT) was up 190.3% to $2.8 million and earnings-per-share (EPS) grew 185.8% to 3.0 cents. The results are better than the most recent guidance issued by the company in May of revenue between $21.6 million and $22.2 million and profit before tax of between $3.2 million and $3.5 million ($3.8 million actual). The board declared a final dividend of 0.5 cents making total dividends 1 cent per share for the year, up 66% on last year.
Cash from operations was $4.1 million up from $0.4 million last year and $3.4 million was spent on plant and equipment to increase capacity and improve efficiency. A significant proportion of this investment relates to a new high powered laser system commissioned in the South Austraian facility during the year which should enable the company to both grow sales and enhance margins. Cash at 30 June was $2.2 million offset by $2.9 million of financial liabilities, slightly up on the net debt position a year ago of $0.5 million.
Underlying earnings before interest, tax, depreciation and amortisation margin (EBITDA%) improved from 16.0% to 21.6% demonstrating operating leverage as overheads rose by less than gross profit.Underlying gross margin (GM%) improved slightly to 47.4% from 46.3% last year. Underling figures exclude a $0.3 million inventory impairment in FY 2018.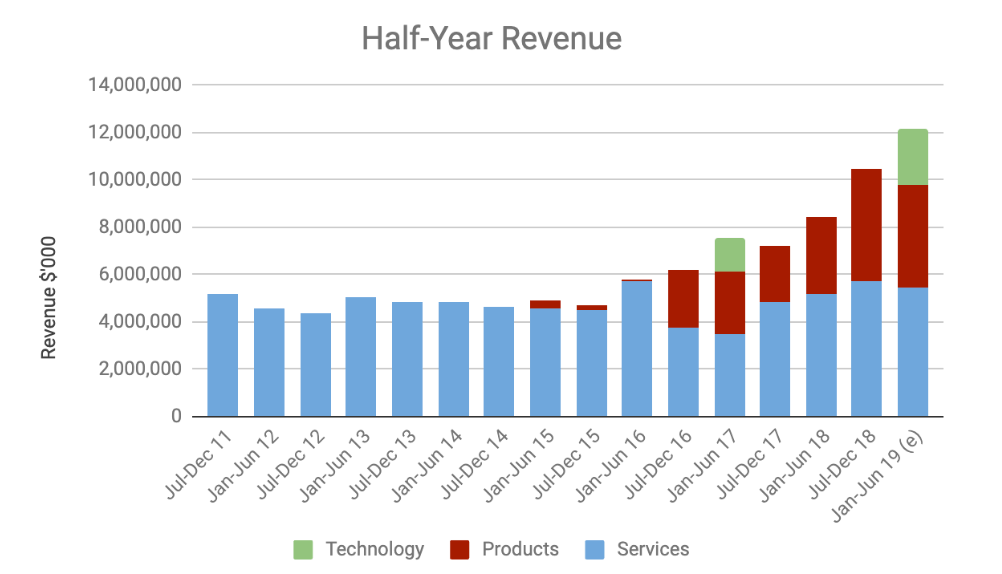 All three divisions performed well with services revenue up 11.3% to $11.2 million, products revenue up 62.8% to $9.1 million and a technology sale for $2.4 million compared to none last year. The second half of the year was an improvement on the first half, but only because of the technology deal. Both services and product revenue were slightly down half-on-half. A noteworthy achievement was breaking into the US market with steel mill rolls. Management said, "The steel mill roll market in the United States alone is estimated to be well over fifteen times that of Australia, and Australia steel mills provided $285k revenue in 2019 (and growing)"
The technology sale during the year included $1.95 million of equipment and a further $0.4 million of consumables. The customer is under contract to continue buying these consumables from Laserbond and they could be worth $1 million per year albeit at relatively low margins. In addition, the customer will pay a utilisation based licence fee estimated in the hundreds of thousands of dollars per year falling straight to the bottom line. Another technology sale is planned in 2020 and two per year from 2021.
Based on these results Laserbond trades on a historical enterprise value to earnings multiple of under 20. The outlook remains positive for the company with double digit sales growth forecast for the Services and Products divisions at similar profit margins to FY 2019. Longer term the company is targeting $40 million of annualised revenue by 2022.. Today's results have proved that operating leverage exists within the business and so an almost doubling of sales could translate into even higher profits. This is without the impact of technology license fees which will start to flow from next year. Whilst half on half revenue excluding technology was slightly lower and there is a decent chance that the coming year will be one of consolidation, I think Laserbond shares remain good value over the long term and I will be holding on to my shares.
Disclosure: Matt Brazier and Claude Walker both own shares in Laserbond at the time of publication, and will not sell for at least two days.
For early access to our content, join the Ethical Equities Newsletter.
Access to our paid Ethical Equities Supporter membership subscription is available, but only by request.
If, somehow, you are not already using Sharesight, please consider signing up for a free trial on this link, and we will get a small contribution if you do decide to use the service (which in turn should save you money with your accountant, or time if you do your own tax.) Better yet, you can get 2 months free added to an annual subscription.
This article does not take into account your individual circumstances and contains general investment advice only (under AFSL 501223). Authorised by Claude Walker.
Addendum from Claude
Matt has covered Laserbond very well for Ethical Equities, quite publicly.
But newsletter subscribers were quite clearly told we liked the stock back in October last year, when we sent them this:

So even if you're not ready to become a paid subscriber to Ethical Equities, I do believe there is a lot of value in the Free (albeit infrequent) Newsletter.