Kip McGrath Education Centres (ASX:KME) HY 2019 Half Year Results: Plenty of Profit Growth
A few weeks back, in episode #13 of the Three Wise Monkeys, I introduced my second largest holding, Kip McGrath Education Centres (ASX:KME). It's a small company, but long-time Ethical Equities readers should be familiar it, with since it was the subject of one of our early hidden reports, and new members have consistently been sent that link when they join up. Of course, site analytics show me it is only the minority who actually read that relatively obscure content.
Which is a pity, because Kip McGrath hit 10-year highs yesterday, off the back of yet another impressive set of results.
Indeed, the company reported profit uplift of 41% for the first half of 2019, which is in line with the chairman's prediction at the AGM. Now, one of the reasons I believe this stock is cheap is that revenue growth has not been impressive. But this is because they have changed the way they have accounted for revenue over time, making gross profit a better measure of growth.
You can see how gross profit and dividends have been steadily increasing, in the chart below: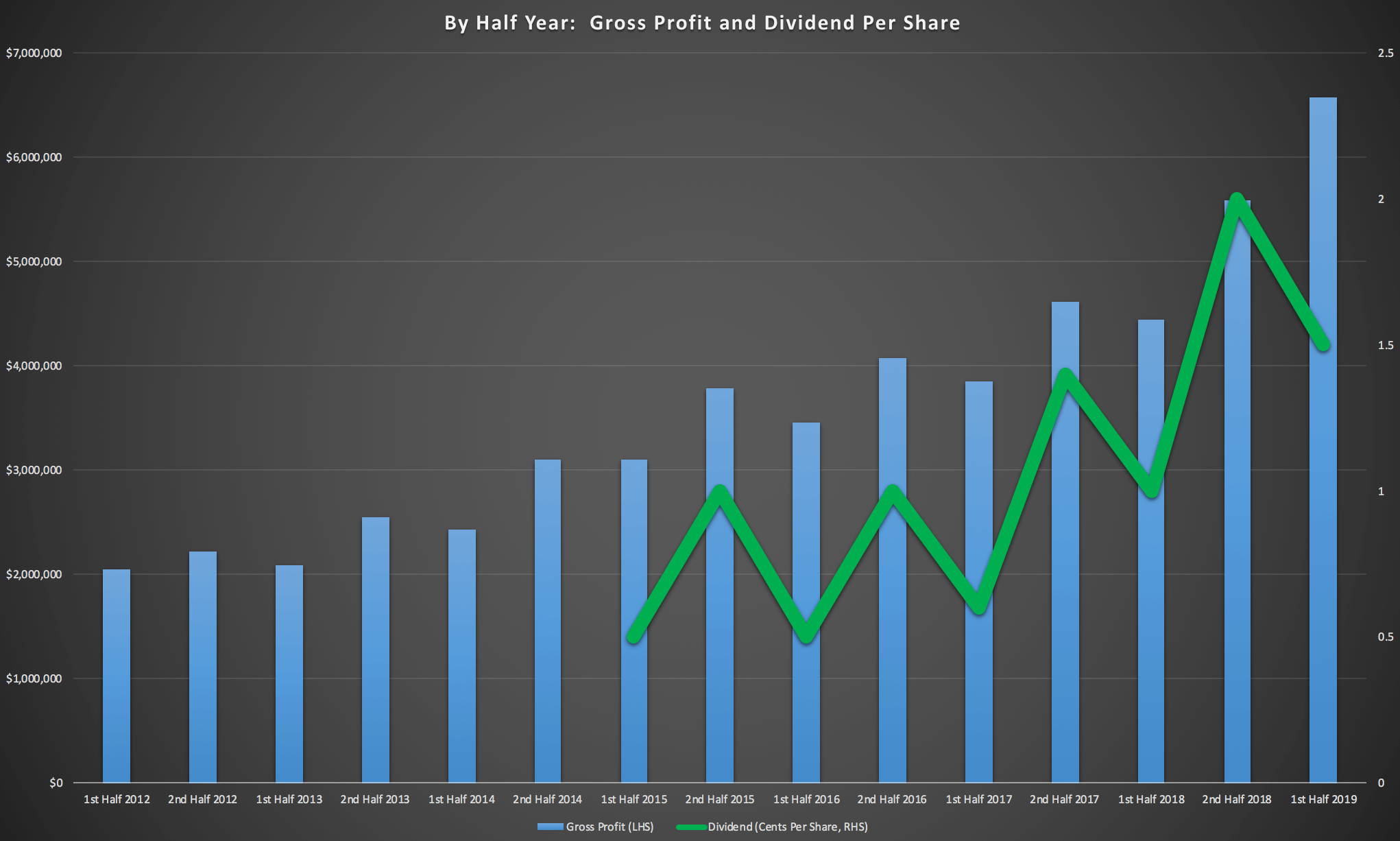 As at the end of December, the company had about $5.5 million in cash and total liabilities (less receivables) of about $8 million, so while it is certainly no fortress, the balance sheet is in healthy shape.
This was bolstered by positive free cash flow of about $500,000 for the half. The main reason free cashflow is so much weaker that profit is the decrease in payables. On top of this, we see an increase in capitalised development spending on accounting, administrative and onscreen tutoring software. While this is an ongoing expense, it is increasingly matched by the depreciation and amortisation line in the profit and loss, so is not a big issue in terms of understanding true owner earnings.
Onscreen tutoring continues to progress, albeit slowly. The company said at the end of the December 2017 that "we are now delivering over 1500 lessons per month". Then, at the end of June 2018 they said again that "Onscreen tutoring is still growing, and we are currently delivering 1,500 lessons per month." Finally, in this report they said " Onscreen is up 50% on the same period last year." It's not entirely clear what this means but I think it is safe to assume the company is doing closer to 2,250 lessons per month now. While I feel a little more clarity with reporting numbers would help, I'm pleased to see this growth.
When the results came out a week ago I was pleasantly surprised. Profit growth is running at about 40%, despite a slightly increased tax rate. I duly bought more shares at 85 cents and informed the public of my actions!
#ASX $KME net profit up 40%. Solid!

I couldn't help myself and bought a few more shares even though it was already my second biggest holding as disclosed in this recent @3wmpodcast episode:https://t.co/jXzpZrvdgk pic.twitter.com/ZIeARoWFLl

— Claude Walker (@claudedwalker) February 22, 2019
At the current share price of $1.01 the value is less obvious, but I think it is still present. The half year profit was $1.1 million, and the market capitalisation is $45 million today.  In the report, the chairman said that "The second half is always more profitable than the first half and this year will be no different." Therefore, we can assume the profit will be at least $2.3 million if everything goes to plan, putting the company on a price-to-earnings ratio of just under 20. If a growth rate of just 20% can be maintained for 2 years, that would come down to about 14, and the dividend yield would be sitting over 5%, with more growth still likely.
So even though I am selling some of my shares I do not currently intend to sell any Kip McGrath Education Centres shares at a P/E of below 20! Finally, I do note that the chairman is selling down some of his holding. This was well telegraphed and is entirely reasonable. However, I note this should provide some liquidity over time.