The tutoring company Kip McGrath (ASX: KME) released its results on Friday showing a continuing implementation of its long term strategy. It's steady as she goes.
Net Profit after Tax (NPAT) has grown by 41% to $2.0m. The company has done this amidst a flat revenue of $13.7m (more on that below). This represented an expansion of NPAT margin from 11% in FY17 to 15% in FY18. More impressively, this was not a 1 year trend. Kip McGrath has consistently grown its margin from 2% in FY12.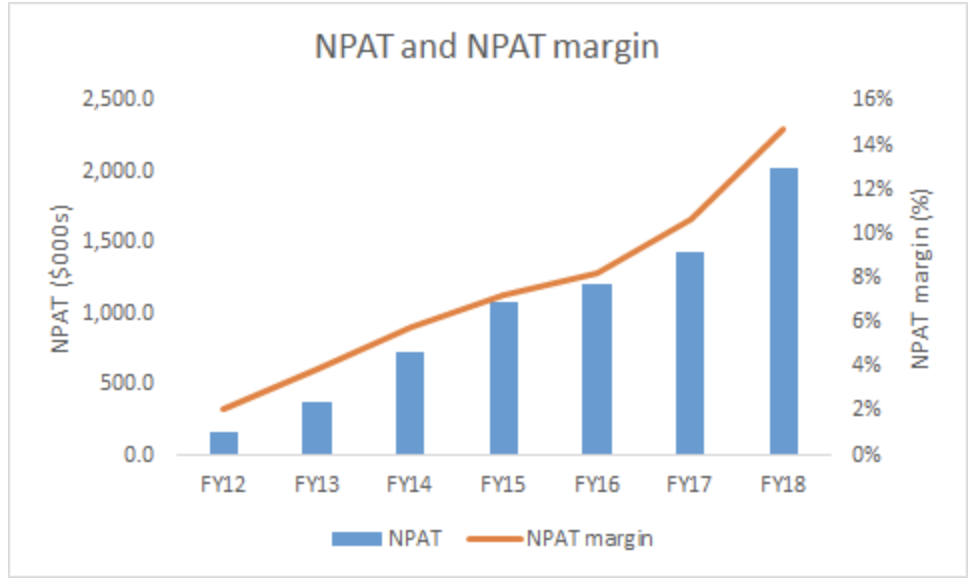 Behind this steady increase in margin lies a change in the business model of Kip McGrath over the years. They have become less a labour-intensive business, to a more capital light franchise operator. The journey started 8 years ago when they first trialled the Gold Franchisees model.
The Gold Franchisees model is where the head office takes care of the back office functions such as running a marketing program, managing the accounts, and doing the payroll. There is a win-win between the franchisees and the company, since this model frees up their time to teach, while the head office takes a larger cut of the revenue.
As they continue to convert more franchisees into Gold Partners, they will capture a larger proportion of their franchisees' revenue. Gold Partners numbers continue to rise, increasing by 16% to ~267 centres globally. They are now in the latter part of the journey to convert the franchisees to Gold Partners. In Australia 76% of centres are Gold Partners and the UK, 60%.
On top of their Gold Partners program, Kip McGrath has done a number of things to help their business going forward. They have increased national advertising campaign over TV, radio and digital. Management has said that these national campaigns have shown encouraging results and are a lot more effective than their previous local advertising. Furthermore, they have released an online booking system in Australia and NZ (with UK releasing in August) that enables parents to book in a free assessment directly. These initiatives continue to increase the quantity and quality of leads, with leads up 25% globally in FY18. Management will continue to push these initiatives forward, especially on the advertising front, planning to double their spend in FY19.
Kip McGrath's push in using technology to tutor students over the internet has continued. They are now delivering over 1500 lessons per month, the same as they were six months ago (but up on last year). The company benefits from online tutoring by taking a cut of the money spent on each lesson.
Cash generation was strong, with a net operating cash flow of $5.2m, up 65% from FY17. This has enabled Kip McGrath to pay a fully franked dividend of 2c, taking their FY18 dividend total to 3c. Free cash flow was $2.2 million, slightly higher than profit.
Part of the reason Kip McGrath was so cheap for so long is because the company has been changing the way it accounts for revenue. Instead of booking the entire price paid as revenue to the company, then paying the tutor through 'direct costs of student lessons' they just book their share as revenue.
As a result, gross profit, shown below, is the most appropriate metric to measure top line growth. As you can see the first half is typically weaker than the second half, but the long term trend is up.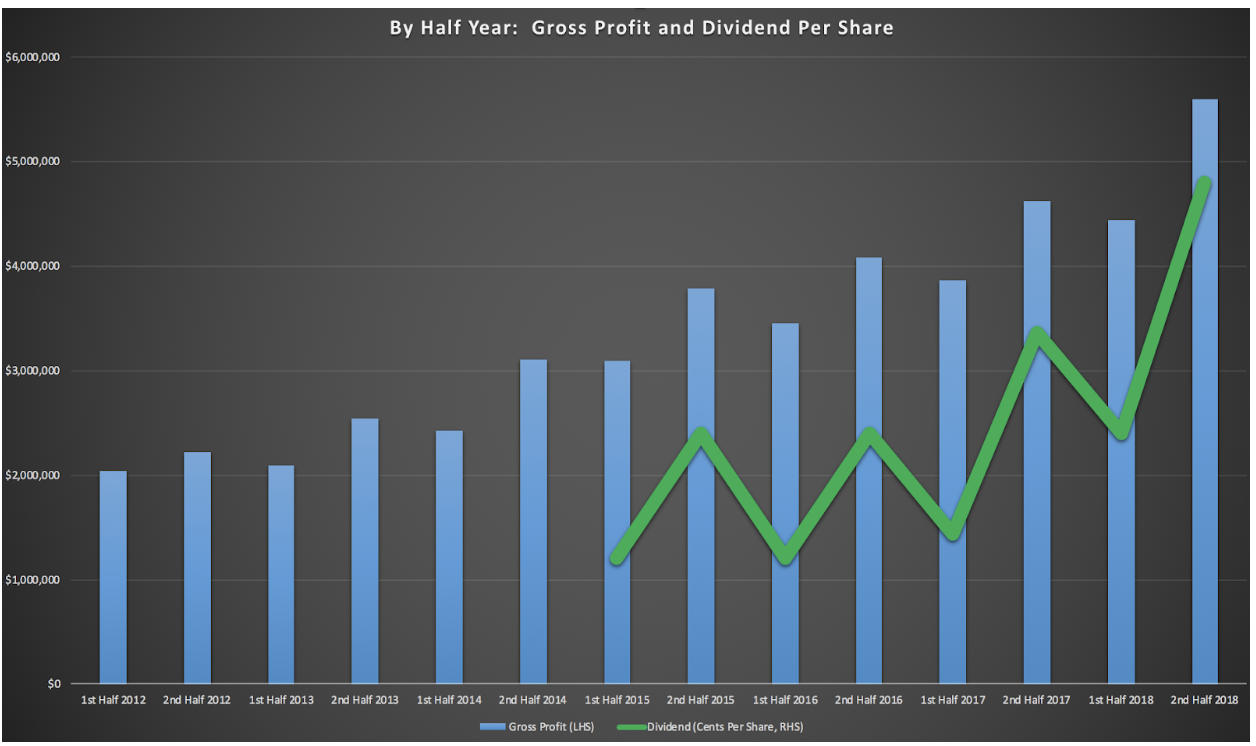 The market has woken up to Kip McGrath's capital light business model. I was aware of all this, yet twiddled my thumbs and hesitated to buy over a few cents when it was in the 30c range. I kick myself over that decision. At its prices now, (68c as I write this) it appears to be fully valued. While management has said that they "expect revenue, profit and profit margins to continue to grow", I am not sure how much further they can grow. They had a lot of tailwinds from the Gold Partners conversion, but that is towards its tail end. Their advertising and online tutoring are showing promise, but I am not sure that they can grow their revenue significantly.
With UK revenue representing ~50% of their total revenue, they may benefit from a weakening AUD. However they have also used all their historical tax losses, which will see them paying a higher tax rate.
Nonetheless, I have to give credit where credit is due. Management has (and is still) successfully implemented a good long-term strategy. They changed their strategy in 2010 when they scrapped their ill-fated venture into business education. Now, with their current strategy my only request to management is this: make sure your franchise and Gold Partners model creates a true win-win situation for your end customers (the parents and kids), your franchisees, your employees and your shareholders. Only through such a situation would Kip McGrath be able to prosper long in the future. Don't go down the route of other franchise models, where the head office's interest reign supreme.
Disclosure: I don't hold any shares in Kip McGrath. For more of my writings, you can visit my personal blog on wyldestreet.com
A note from Claude:
I assisted with the analysis above and I broadly agree with Mark. However, I own shares in the company and I am a little more bullish, and actually had a bid in to buy shares at lower levels, not long ago (it did not get filled).
I think Storm McGrath will treat stakeholders well. I note the family may consider selling some of their shares at some point. If they do sell any, I hope they inform their shareholders of their reasons, which may be quite legitimate. They have held steadfastly throughout the hard times.
I am glad they have started getting traction with online tutoring but I note all the growth came in the first half: I'll be looking for that to improve over the next half, or I may have concerns. The main reason I would change my view is if they did an acquisition. If this company sticks to its knitting then I would be pleased to remain a shareholder. Even after taking some profits a while back, this is a 6.1% position for me. However, I am not a buyer at today's price. I consider the stock worth watching, as a potential opportunity, since it does tend to drift down on low volume.
For early access to our content, join the Ethical Equities Newsletter.
Disclosure: Claude Walker owns shares in Kip McGrath Education Centres. This article contains general investment advice only (under AFSL 501223). Authorised by Claude Walker.