Please note: this report is very old to the point where it is arguably useless. You must not consider it to be current. Many things may have changed, and it may well be that I no longer believe this company to be an attractive option. Please consider it an archive only.
Kip McGrath Education Centres Limited (ASX:KME) is a tutoring franchise. Its key offering to franchisees is the cloud-based software package that allows students to submit their homework online and take lessons online as well as streamlining the process of reporting progress to parents.
However, this was not always the case: indeed, the company has recently turned itself around. To quote Chairman (and co-founder) Kip McGrath in the November 2010 Address to shareholders:
"Since the end of 2010 the company has encountered difficult trading conditions and is trading below last year…With the continuing strengthening of the Australian dollar… we are suffering a permanent negative effect on our revenue and profits… In the core franchise business new sales of franchises are very slow and it has been clear for some time now that an exclusively face to face teaching business that offers minimal administration and head office support to the franchisee is losing relevance in today's tutoring market."
Worse still, the company had invested in a business that lost money, and the business was liquidated by the end of 2010. Put simply, the company had purchased a college education business that generated losses and subsequently failed to gain re-accreditation resulting in an impairment charge of $2.5 million.
For these reasons, the business went through what can only be described as hard times.
Fast-forward to the present and the business is looking much better. The company has bolstered their online offering and changed the way they share profits with their tutor franchisees. This better incentivises tutors to focus on tutoring and generate more revenues. The new cloud based software (which allows students to work from home) is apparently improving student retention.
Because of these initiatives, the 2013 Chairman's address strikes a very different tone: "It is gratifying," he says "to see the company back on a path that I believe will see continued growth and expansion over the next couple of years." Believe it or not, the company is currently opening centres in Qatar, Lebanon and Pakistan. While it is reasonable to assume that these markets may not be the most secure, most of the company's revenue still comes from Australia and the UK.
KME Stock Valuation
Free cash-flow (not including financing costs, but accounting for changes in receivables and payables) in the 1st half of FY 2014 was about $400,000. I think it is therefore reasonable to expect about $1 million in free cashflow for FY 2014. I then forecast the company to have a significant improvement of 20% for FY2015. This may seem outlandish, but given that the company has a degree of operating leverage, and franchise models are generally scalable, I expect that top line growth should really drive bottom line growth, especially given the capital light model model.  I've then assumed slowing growth over the subsequent years. Another way to get the same value would be to assume 8% FCF out until 2021. 8% growth isn't really that much more than CPI growth, so I think it's a reasonable to expect. However, I'd be unhappy if FCF fell short of about $1.35 million in FY 2015. There are a number of valid criticisms of the assumptions I've made, I'm aware of some, but I hope some readers will make the criticisms in the comments (for the sake of us all).
The company still has debt of just over $2 million on the books, so I would adjust my valuation down slightly to account for that. Importantly, finance costs are about $260,000 per half and I haven't subtracted this from free cashflow.
That's because I wanted to value the underlying cashflow, not the real free cash flows. Adjusting for the repayment of this debt and taking into account cash (assuming they continue to reduce financing costs) I get a buy price of about 31c. As a result, I bought shares at 29c in recent weeks, and would buy below those levels. I also think Kip McGrath would be a decent investment at up to 35c, although I am not a buyer at those levels. I've often received feedback that I make overly conservative assumptions. I'll just keep plodding along, and regular readers who better understand my biases will continue to get more use out of my research than once-off visitors. That's as it should be.
DCF working
The sharp eyed amongst you will note that FY 2014 DCF value is only discounted by 5%, the other years are 10%.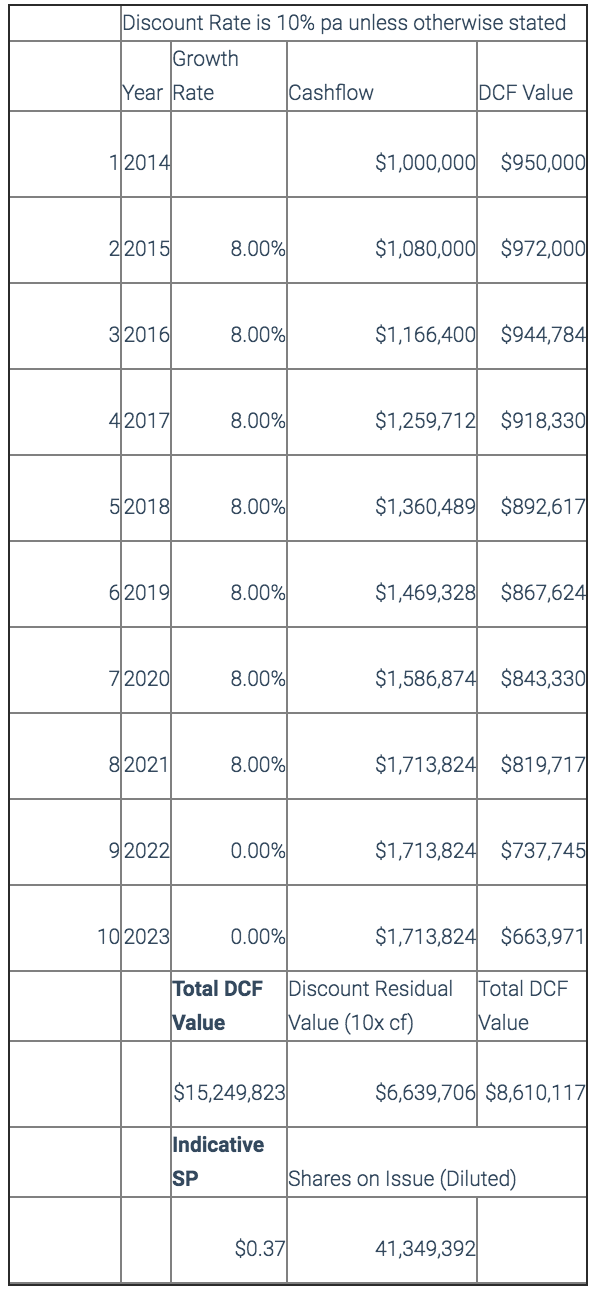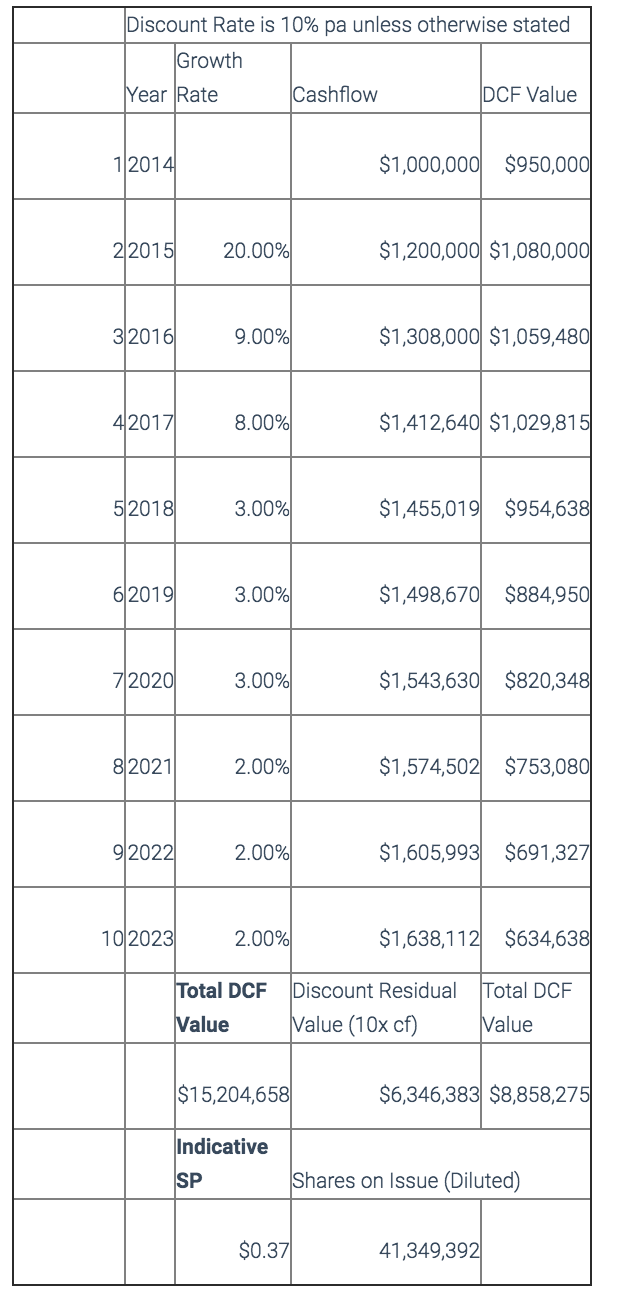 Low Liquidity Stock
When I first started buying Global Health Limited (ASX: GLH) at 23.5c there was virtually no liquidity. After I covered the company on this blog, shares continued to trade under my buy price for several weeks, albeit on small volumes. Those market participants who patiently waited for their orders to fill were rewarded.
I may buy more KME, especially if the stock falls to about 25c. I noticed that there was a steady drip feed of stock at around 28.5c – 31.5c, so I suspect there may be a holder willing to part with shares at those prices (which is fair enough, considering how low the stock has traded in recent years). Low liquidity stocks are for high conviction holders only, in my opinion. The big question for Kip McGrath is this: will tutor franchises continue to attract new clients?
A lot of variables go into answering that question, and therein lays much of the risk.
The Author owns shares in Kip McGrath. Nothing on this website is advice, ever. The purpose of this blog is to keep track of my decisions and invite feedback
Sign up to the Free Newsletter to receive the best research, first.