I'm pleased to present to you the first ever report on the portfolio's progress that incorporates dividends. There have been no changes to the portfolio since I last wrote in March. Also, prices are true at 3pm 10 June. I simply wanted to get it done (I've been putting it off for ages). With luck, they won't change too much in the next hour of trading.
Pleasingly, my picks are up - on average - over 26%. That figure is even more pleasing because the oldest pick, Energy Action, is less than a year old (in real life, I sold some of my holding). The average return relative to the market is 21.7% which is also quite good. Indeed, only one pick is in negative territory, 1300 Smiles, which I did make the mistake of choosing when it was too expensive (in real life, I topped up when it dipped on results). However, as this portfolio is meant to be less active than my own, I'm happy to choose long term prospects (as long as they are already profitable). In real life I sold some Vocus Communications shares at above current prices, but I have not sold any Bentham IMF shares.
Click on the picture below to enlarge :)
The star performer is My Net Fone, the second best is Fiducian Portfolio Services. In real life, I have sold some of my holding in both of those companies, evidently to my detriment.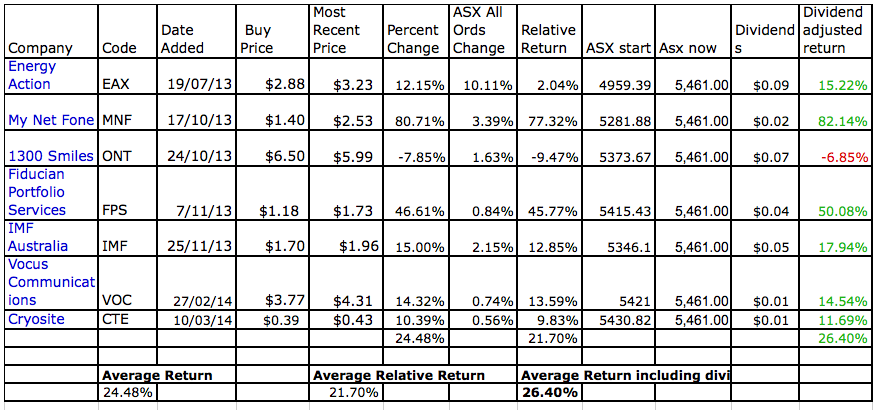 Nothing on this website is advice, ever. I hold positions in all of the companies mentioned above, namely, Cryosite Limited ASX:CTE, Fiducian Portfolio Services Limited, ASX:FPS, Vocus Communications Limited, ASX:VOC, 1300 Smiles Limited, ASX:ONT, My Net Fone Limited, ASX:MNF, Bentham IMF Limited, ASX:IMF.
The Hypothetical Ethical Share Portfolio