Energy Action is undergoing a transition from a business with a competitive advantage, high margins and high recurring revenue to an acquisitive machine with lower margins and less recurring revenue and a gradually reducing competitive advantage, as well as higher working capital needs. I have sold my Energy Action shares on open and (as I stated here, just before market open) I have removed them from the Hypothetical Ethical portfolio.
Energy Action Limited (ASX:EAX) was one of my oldest shareholdings. It is a company that provides a reverse auction platform for procuring gas and electricity, software as a service to monitor electricity use, and energy efficiency solutions for organisations wishing to cut down on energy use.
When I first bought shares in the company it was run largely by the founders, who oversaw several years of rapid growth. However, there has been somewhat of a changing-of-the-guard in recent years, and, worryingly, an increased focus on the contract based, lower margin energy efficiency solutions business. That used to be called Activ8+, then it was rebranded (at some expense I believe) to Sustainability Solutions, and now it is referred to as "Projects & Advisory Services" and operates a few different brands. This is a bad business to be in as it is specifically targeted by conservative governments who want to do the bidding of the fossil fuel companies that benefit from inefficient use of energy such as Origin Energy Limited (ASX: ORG). These companies are in direct conflict with Energy Action, any way you look at it.
Having worked in the solar and energy efficiency industries, and having studied them extensively, I can tell you that as a shareholder this move was somewhat concerning. The bad taste in my mouth was compounded by the fact that it literally took weeks for management to get back to me when I had some queries. I duly sold down most of my holding late last year.

Energy Action released disappointing full year results today, confirming management is not of sufficient quality
Employee expenses increased by $2.6 million, even accounting for $300,000 of the acquisition cost of Exergy that counted as "employee expense." Revenue increased by $3.7 million, so revenue growth is low margin revenue growth, even before you consider the fact that the acquired businesses have much higher working capital needs.
The huge 82% increase in cost of goods sold reflects the shift from low working capital SaaS and auction platform business to high working capital "Projects & Advisory Services" business.
What's more, these results don't even reflect a full year of contribution from Exergy, or any contribution from EnergyAdvice [sic] which was announced today, presumably as a result of pure coincidence rather than the hope that it would obscure disappointing results. Keep in mind the acquisitions, particularly Exergy, are what bring the high employee expenses and the high working capital needs. What a lemon.
Most damningly, the number of AEX sites under auction actually decreased, despite the fact that the company has obviously acquired a bunch of smaller customers. This is of key importance for two reasons:
1) It shows that in expanding the unpredictable and low margin Projects & Advisory Services, the company has neglected its most important competitive advantage - a strong auction platform, and;
2) That growth in the recurring revenue, high margin Activ8 "Contract Management" division will not benefit from a greater number of auction sites. In the past, convincing owners of auction sites to use the Activ8 services has been a key way of winning sales. That pool of potential customers hasn't grown.
As regular readers will know, I originally invested in Energy Action because the AEX reverse auction platform was a great offering that could attract customers to the high margin Activ8 monitoring service. I was always a little skeptical of the Sustainability Solutions/Activ8+/Projects & Advisory Services division because it is contract based, liable to be shut down by government regulation (or lack of incentives) and it requires much higher working capital, which eats into free cash flow generated by the other business lines.
One question remaining shareholders might want to ask is why the dividend was cut if the "underlying profit" was essentially flat. My bet is that the company wants to conserve as much capital as possible so it can continue to make acquisitions that boost EPS, whether or not they represent an attractive return on invested capital. That's because management is remunerated largely on EPS. Keep in mind that's the same kind of remuneration package that lead to the demise of Forge Group. And we undoubtedly paid consultants for that. Any company with cash can boost earnings per share by simply spending the cash on a business that returns better than whatever measly interest they were receiving. As shareholders, we'd be better off if Scott bought ice-cream stores in beach towns - at least that would offer a decent ROIC and not suck up much working capital.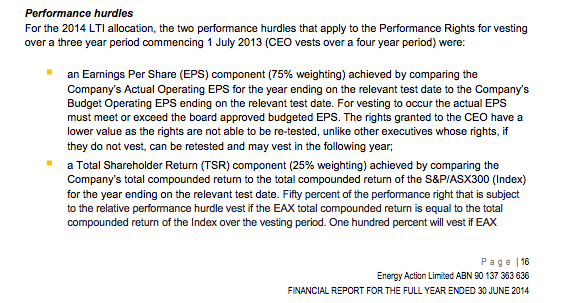 Worse still, the high margin monitoring segment actually saw a reduction in revenue, so there is less money from the high margin recurring business. Even worse than that, this reduction was due to a rejig of the sales team that we - once again - paid consultants to devise.
It's definitely worth noting that advertising - an expense that actually makes sense for shareholders - was basically flat. It's also worth noting that today's announcement of another acquisition (which will of course boost EPS) was gleeful about the prospect of increased employee expenses. CEO Scott Wooldridge said: "It is particularly pleasing that EnergyAdvice's existing Directors will be joining Energy Action's Executive team..." At least the EnergyAdvice acquisition will bring some new clients, but if you think the price of 9x the average EBIT of FY2012 - FY2014 is a good price, then I have some authentic persian rugs you might be interested in ;)
I wonder what multiple of FY 2014 EBIT Energy Action shareholders are paying so Scott can grow EPS? Also funny how shares represent less than 5% of the consideration for this new business. I guess Mr Phil Randall doesn't want to have too many shares. After all, we could have made a lot more money by following the other insiders' lead and relentlessly dumping shares on market.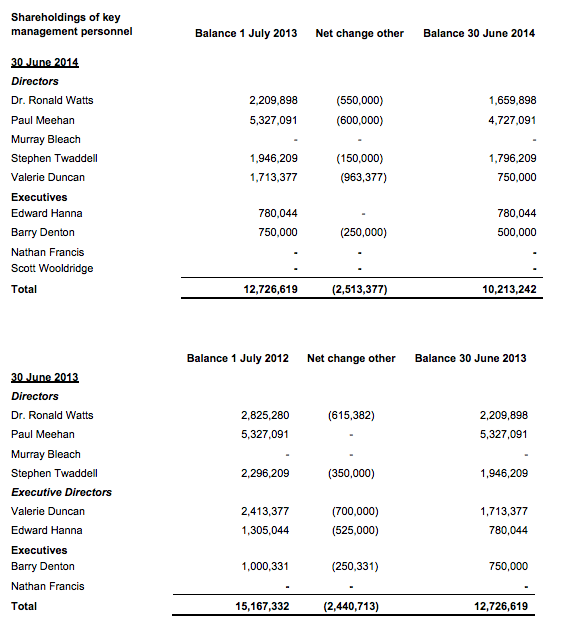 Ok, well I could go on for hours about how annoyed I am, but suffice it to say that I should have followed my instinct and sold all my shares a while ago.
Newsletter Subscribers are send monthly updates with my best research as well as information about my acquisitions and disposals. Regular readers are always welcome to email me directly with questions.
The author sold his shares in Energy Action on open this morning. The author probably still has an indirect interest in Energy Action. The purpose of this blog is to document my thoughts on different companies in an easily accessible way and to make connections with likeminded investors. Subscribers to the Free Newsletter get sent research first, and have access to the Hidden Research.