Can Xref (ASX:XF1) Accelerate Revenue Growth?
Since Xref Ltd (ASX:XF1) released its quarterly results, we've seen an initially muted reaction, followed by a rising, then falling, share price. To me, that suggests that the market didn't really know how to respond the results, which were "good enough" without being impressive.
As you can see below, receipts from customers were slightly up on the preceding quarter but lower than the first quarter, which benefited from strong fourth quarter sales. The company excitedly pointed out that, "Historically, sales for the fourth quarter are similar to total sales for the preceding first half of the year". While this kind of cyclicality surprises me, it is reasonable to wait for that peak first quarter cashflow to get a picture of annual growth.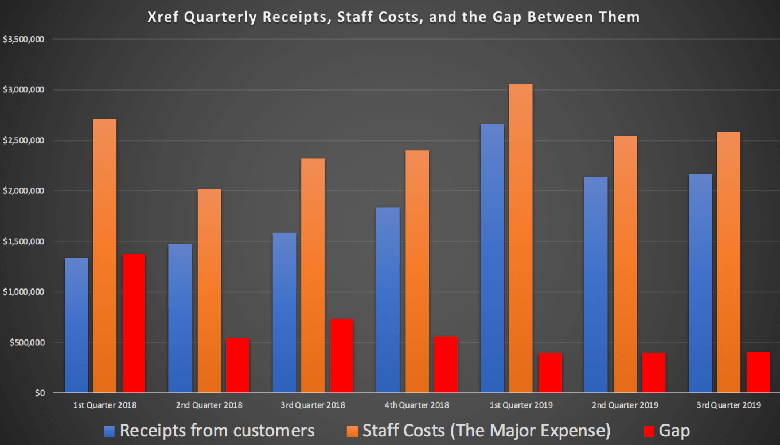 While at first glance I find the 36% quarter on quarter growth to be a bit low, I am hopeful that the growth rate will actually increase as the company gains traction overseas. The nascent international business saw revenue grow to $298,000, a 165% increase year-on-year off a low base. Channel revenue, where the product is on-sold to the customer by a channel partner, was up 200% to $359,000 proving that partners are willing to generate significant revenue for the company.
The only reason I'm interested in the stock because it claims it can self-fund itself into an international business, that should itself be leveraged to the growth of its own customers. Obviously this sort of business will have its ups and downs, but it could really fly at the top of a cycle. Should Xref be able to take a chunk of this market, even (and most likely) by sharing significant revenue with channel partners then it will be a capital light way to profit from a diverse array of businesses.
With almost $9.6 million, and trailing twelve months negative free cash outflow of $4.7 million, the company has a least a year to show what it can do before it will have either proven it does not need further capital, or be well-advised to sure up its balance sheet. On that subject, the CEO says that the company is "well positioned to reach cash flow break-even". He further ventured that  "we have never been in a better position entering the last quarter than we are this year".
This sort of guidance stakes enough that his reputation will take a blow if the company needs to raise capital before proving (ironically) that it does not need to; but sufficiently vague to allow wriggle room on timing. I still think there's a decent chance they could come through, but plenty depends on fourth quarter sales.
At today's close of 55 cents the share price is up about 15% since we published this hidden report touting the prospects of the company. When we sent that report to newsletter subscribers, I considered the stock price compelling. However, with the increase in price and the slightly disappointing growth rate, I see the share price as less compelling today.  While I could imagine myself taking some profits if I find superior uses for my capital, I do believe that this thesis needs longer to play out, and I have held on so far. At the very least, I'm inclined to give the business until the end of the financial year, when we will find out about the all-important fourth quarter sales. What I like most about this opportunity is the potentially significant international opportunity -- because if the company can expand profitably on a global scale, then it will be worth many multiples of what it is today. 
Only subscribers to the Ethical Equities newsletter receive our best and most actionable research. Sign up here to automatically receive a link to this hidden content. 
Dear reader,
Ethical Equities costs thousands per year to run.
If you'd like to see us thrive, and you don't yet have a Sharesight account, please consider signing up for a free trial on this link, and we will get a small contribution if you do decide to use the service (which in turn should save you money with your accountant, or time if you do your own tax.) And  on top of that you can get 2 months free added to an annual subscription.
Thank you for your support!
This article does not take into account your individual circumstances and contains general investment advice only (under AFSL 501223). Authorised by Claude Walker.