Just prior to Easter, audio networking protocol (Dante) owner Audinate (ASX:AD8) released its quarterly cashflow report. Receipts from customers were down on the prior quarters, at about $6.2 million, but up 40% on the prior corresponding period.  As you can see in the chart below, the third quarter was the weakest quarter last year, so it seems likely that the result was impacted by some seasonality.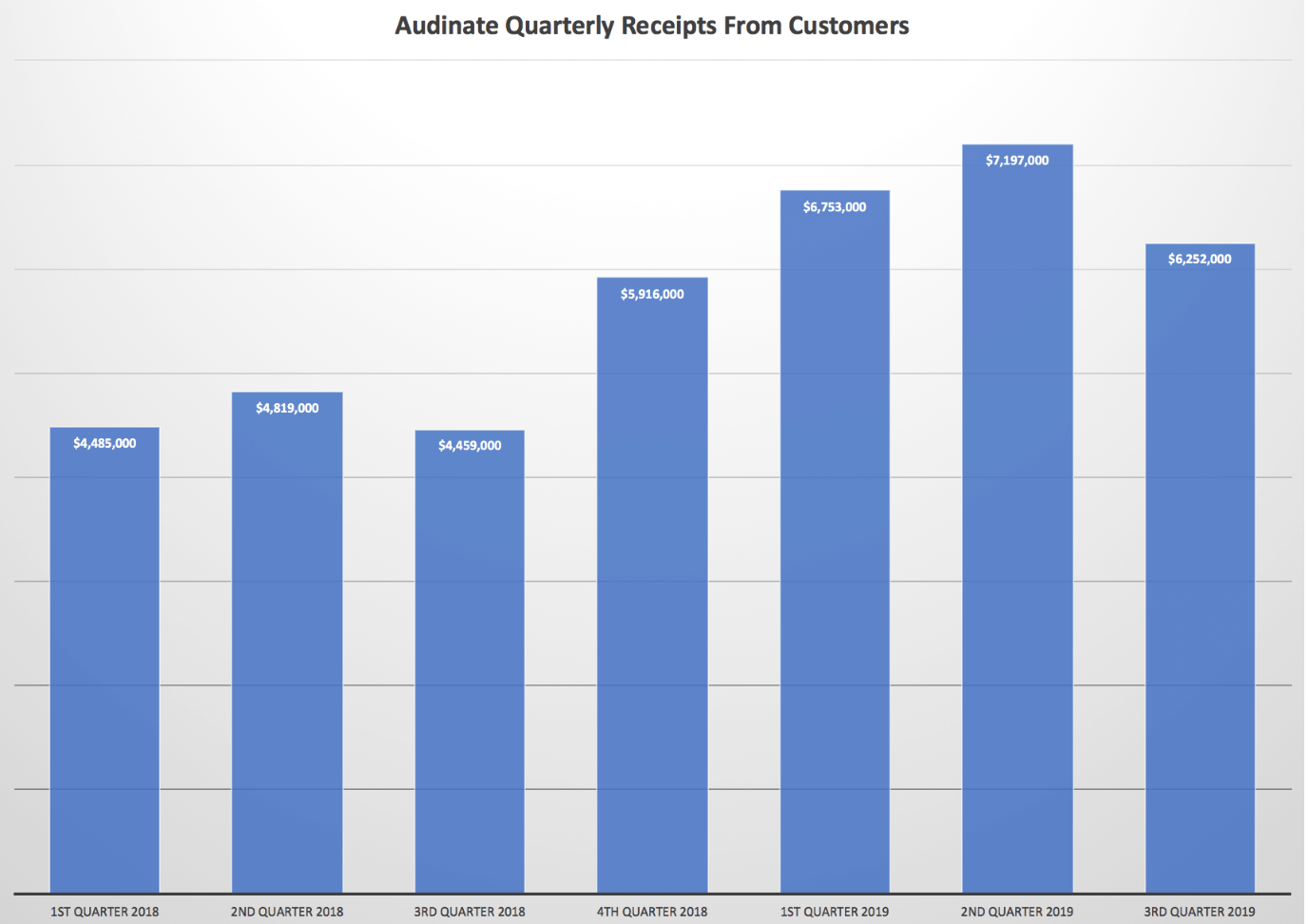 The company produced $1.6 million of positive operating cashflow but only about $300,000 if you exclude the government rebate. This lead to negative free cash flow of just under $1.5 million (in its weakest quarter). While I would prefer to see free cash flow breakeven, this level of outflow is acceptable given that the company still has $12 million cash in the bank.
The number of Dante enabled products available for sale increased by 11% over the quarter, to  1,946. This increase of 197 is a really strong result, given that the prior 4 quarters have averaged about 115 new products per quarter. This was explained by a big leap in the number of Original Equipment Manufacturers (OEMs) shipping a Dante enabled product, up by 13, to 241. Again, this was a strong result compared to prior recent quarters -- the last half saw an increase of only 7 OEMs shipping Dante enabled products, while the half before that saw a gain of just three.
This growth in customer numbers could be seen as a strengthening of Audinate's network effect, whereby widespread acceptance of its Dante protocol support further acceptance. In selling the shares down, upon release of the quarterly, the market has perhaps overlooked this fact.
Having said that, I believe that the market price for Audinate is now far more reflective of its potentially strong market position, despite the fact the company has yet to exercise its (theoretical) pricing power to drive profitability. So while I would not say the opportunity has passed, I cannot deny that as the share price has risen strongly in recent months, the balance of risk and reward has become less favourable.
Nonetheless, I remain a happy holder of Audinate shares.
Finally, Audinate has now produced four quarters of positive operating cashflow and will therefore no longer be required to submit quarterly cashflow reports.
Claude Walker owns shares in Audinate and will not sell for at least 2 days after the publication of this article. 
For ethical investment ideas I back with my own money, join the Ethical Equities Newsletter.
Ethical Equities is currently underfunded. If you don't yet use Sharesight, please consider signing up for a free trial on this link, and we will get a small contribution if you do decide to use the service (which in turn should save you money with your accountant, or time if you do your own tax.) Better yet, you can get 2 months free added to an annual subscription.
This article contains general investment advice only (under AFSL 501223). Authorised by Claude Walker.