3 Reasons To Avoid The InvestSMART Ethical Share Fund (ASX: INES)
I often get asked about various diversified ethical investments, both index funds and managed funds. Generally, when I think about ethical funds, I consider both the track record of the investors both in terms of performance, and in terms of ethical investing itself.
The InvestSMART Ethical Share Fund (Managed Fund) (ASX: INES) rates so poorly on both measures. Here's why.
1) InvestSmart Has A Concerning Performance Track Record
Based on early marketing, Investsmart will market the fund based on the long-term performance of the Intelligent Investor newsletter. Looking past the headline, the performance of the newsletter business is still good with their best portfolio outperforming at around 6% p.a. outperformance over 10 years, 2% p.a. outperformance over 5 years, and -4% underperformance in the last year. Performance has declined in recent years.
I don't believe that an analysis of all the Intelligent Investor buy recommendations, ever, is reflective of the constraints of a fund that "will comprise 10 to 35 shares at any one time but will also have some exposure to cash". For a start the buy recommendations have no cash drag, no tax and no brokerage, that I'm aware of.
I think a more relevant measure of performance is the more recent performance "Intelligent Investor Equity Growth Portfolio", which is run by the same portfolio manager who will manage the new InvestSMART Ethical Share Fund. As you can see below, it is trailing the market over every time period reported on the website, except for "since inception", which I do not believe is a good guide. The current portfolio manager joined InvestSmart in 2018.

2) InvestSmart Has Track Record Of Opposition To Ethical Investing
It seems that the people launching this fund have a minimal long term track record of Ethical Investing (at best).
For starters, you have this 2017 Intelligent Investor opinion piece, which actively argues you should not practice ethical investing:

Now that article could provide a rich vein of material for me to critique, but even Intelligent Investor (now InvestSmart) seems to have backed away from Graham Witcomb's claims, since they now say ethical investing "pays off". From what I can tell, their position seems to have changed at about the same time as their decision to launch an ethical fund was announced. How coincidental!
More importantly, the proposed ethical fund portfolio manager shared the organisational skepticism for ethical investing, having admitted, "When I was originally asked about the merits of launching an ethical fund, I was sceptical. The last time I'd heard such enthusiasm for ethical funds was right before the GFC."
Put simply, my googling doesn't produce a scrap of historical evidence that Intelligent Investor (which they are saying will inspire the approach) has ever said a nice word about ethical investing (until they decided to launch a fund). But there is plenty of evidence of their disdain for it.
For example, the long serving editor of Intelligent Investor, was published in multiple platforms, years ago, decrying that "it's one thing to find an undervalued stock but quite another to find one that is cheap and socially responsible." And that's before we touch on the Intelligent Investor's confusion about whether Cochlear is an ethical investment.
As if to compound this impression, the fund's brochure has almost zero information about what is -- and is not -- permitted in terms of what is "ethical". Its almost as if it's all in the name. You can see what I mean below: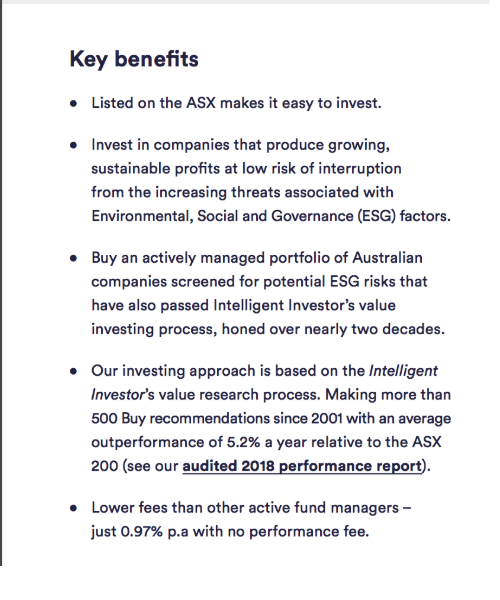 I can't find any clear ethical investing philosophy expressed by the organisation, at all, besides (arguably) deep in marketing documentation for this fund.
Here's my heartfelt ethical investing philosphy, if you're interested.
3) Ethical investors have attractive alternatives to the InvestSmart Ethical Shares Fund
The passive ethical investor is spoilt for choice in 2019. Contrary to the assertion that ethical investing had a lull between now and "right before the GFC", it has actually been growing strongly.
Thanks to Future Super, Australians can now buy a very low cost ethical ETFs sparked (in part) by the founder of GetUp. I know several Future Super employees and mark my words they are very passionate about making a positive impact. (Disclosure: I went to uni with some of them, and I admired them then).
I don't invest with Future Super, but they've done a service to all by supporting these low cost ETFs.
If you want to invest ethically on the ASX, you have the BetaShares Australian Sustainability Leaders ETF (ASX:FAIR) which invests in ethical ASX stocks. It also avoids institutions that lend plenty of money to fossil fuel companies.
Notably, the Investsmart fund will charge almost 1% in fees per annum whereas ASX:FAIR charges 0.5%.
And the ASX:FAIR brochure is rather comprehensive, displaying its ethical standpoint prominently, in stark contrast to the InvestSmart Ethical Shares Fund. You can see what I mean below: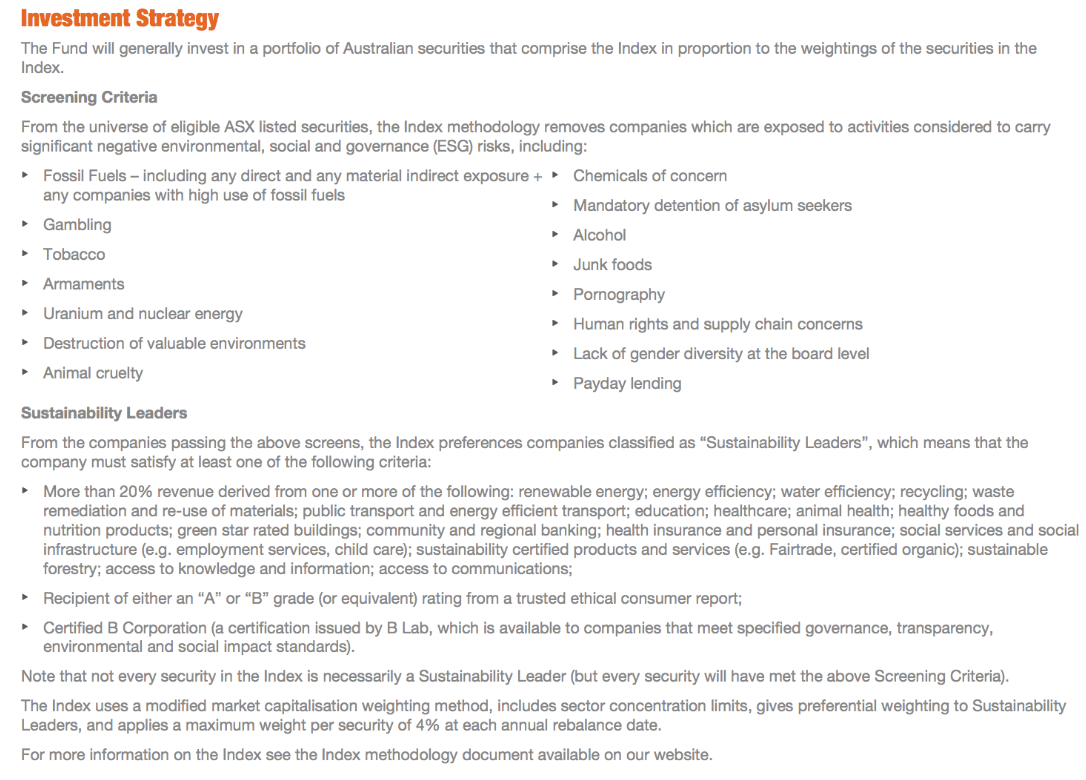 Meanwhile, my preferred stock-standard ethical ETF is BetaShares Global Sustainability Leaders ETF (ASX:ETHI), which invests in companies throughout the world. Its fees are a smidgen higher than ASX:FAIR, at 0.6%. I'll throw to Intelligent Investor again, to explain why the extra 0.1% might be worth it:

When it comes to active investing, my preferred ethical managed fund is one of my own major investments: MX Capital. It doesn't have 1% of the marketing heft of the InvestSmart fund, but the portfolio manager Weimin Xie has a track record of outperformance in his prior roles, and his fund is off to a good start, too, despite his hedging.
I think it's easier for him to perform better when it's smaller, so am pleased to be in early. In personal conversations, Weimin exudes the sense that he has a burning desire to have a high-performing fund, and he articulates his ethical philosophy very clearly and prominently on his website. You can see for yourself if you visit his http://www.mxcapital.com.au/ and scroll down.
Lastly, my superannuation is invested with the superannuation fund Australian Ethical Investments. Aside from my cash holding, my super is split between the Growth fund, the International fund. Both have outperformed the Intelligent Investor Equity Growth Portfolio over three years. However, I have a longstanding plan to start my own SMSF, and I will do that sometime soonish, I think (hence the cash holding).
In Conclusion
Allocating capital is like voting: you get to decide what to support, or you can cast a donkey vote. There's no doubt that this new fund is targeted at people who mean well, but it disturbs me because there are much better options, on the balance of probabilities, for those very well-meaning people.
I find it troubling that ethical investors will end up supporting an organisation with a history of using their platform to vocally discourage people from making ethical decisions with their capital, over the course of many years. Because ethical investors: at Ethical Equities, we are your friends!
For ethical investment ideas I back with my own money, join the Ethical Equities Newsletter.
If you don't yet have a Sharesight account, please consider signing up for a free trial on this link, and we will get a small contribution if you do decide to use the service (which in turn should save you money with your accountant). On top of that you can get 2 months free added to an annual subscription if you sign up via this link.
Thank you for your support!
Disclosure: The Author, Claude Walker, has a beneficial interest in units of the MX Capital Fund and the Australian Ethical Super Funds. This article contains general investment advice only (under AFSL 501223). Authorised by Claude Walker.